In response to demand, here is the recipe for the Sourdough loaf that I recently featured on Facebook.
I make multiple loaves, the quantities quoted below are for EACH loaf; so you will need to adjust for your number. 
The great advantage of this method, is that NO kneading is required, you simply fold the dough over on itself every now and again, time is an extra ingredient that allows the structure of the dough to form.
I'm assuming that you have a sourdough starter to use in this recipe, it contains all the wild yeasts that give this bread its unique taste and structure. Before the advent of instant yeast, all bread was made this way.
If you don't have a starter, I can give you a simple method to make one, it'll take you a couple of weeks, after that, it just requires feeding once a week, and you'll have it forever. Let me know in the comments and I'll set up a post.
This recipe is based on one fromTeresa L Greenway.
Ingredients
130 g of vigorous sourdough starter at 100% hydration. I start to feed mine about two days before making this bread, to get it nice and active.
275 g water
10 g salt
450 g strong white flour
Method

Best started at lunchtime, the day before you want to bake.
Mix all the ingredients together in a large container and cover.
After 2 hours fold the dough, not kneading it, just pick up a corner of the dough, stretch it out and fold it back on itself.

Do this for all four corners. Then gently pick the ball of dough up and turn it over.
Fold the corners in again.

Cover and leave for another two hours.

Fold again as above

Leave for two hours. Then turn it out onto a lightly floured surface, If making more than one loaf, split it into equal portions.
Shape the dough and place it into a banneton, cover with a plastic bag
Leave it for two hours, then put it in the fridge overnight.
Next morning turn the oven to max (240°C) with a baking stone or heavy baking sheet for the loaf to cook on.
Remove the banneton from the fridge, take off the plastic and leave it for one hour, while the oven warms up
Turn the loaf out,
slash the crust and bake for 45 minutes, the internal temperature needs to be 95°C or higher, or make sure it sounds hollow if you don't have a thermometer.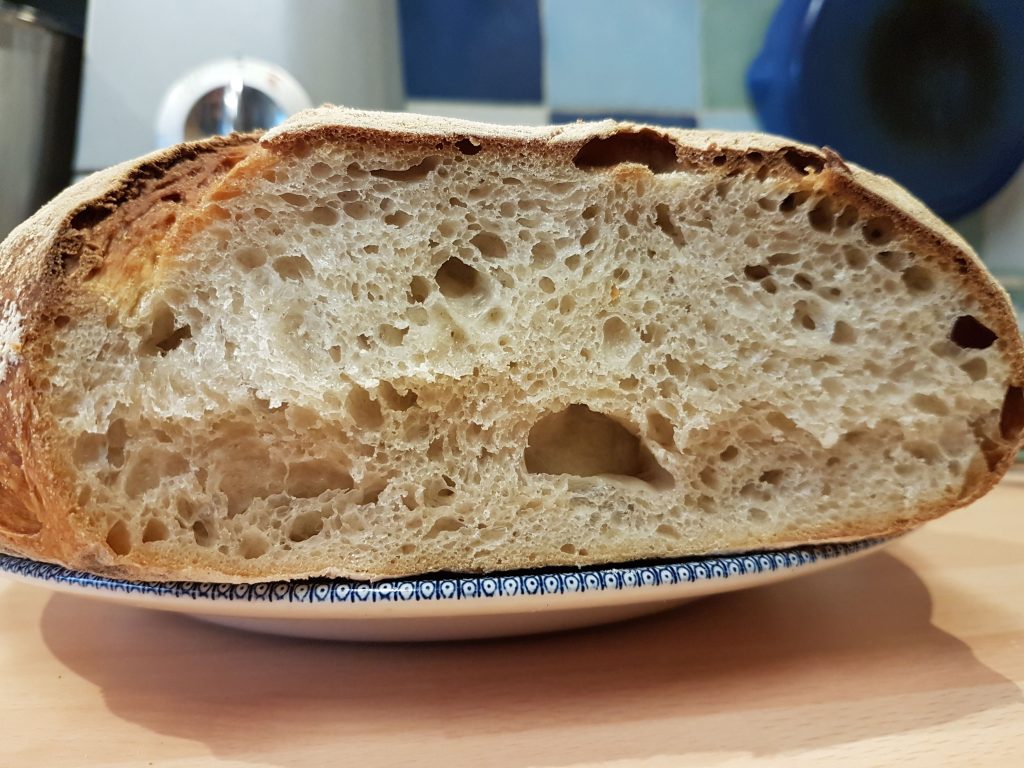 There're two bookfunnel promotion for Sci-fi mysteries. Including one of my books in each.
Space Cozy Mystery Collection
Space Cozy Mystery Collection If you want more cozies in your life, don't forget to check out Free Book Friday and the Cozy Mystery Book Explorer group on Facebook. Celebrate your favourite cozies on #cozymysteryday on the 15th September (Agatha Christie's birthday).
Women Solving Cozy Crimes — July
Searching for your next favorite story? Look no further! These bestselling authors have teamed up to offer a delightful selection of new books. Discounted for a limited time.
Check them out, there are lots of great stories available.
All my publications can be found on my Amazon page, at
I'd love to get your comments, please leave them below. While you're here, why not take a look around? There are some freebies and lots more content, about me, my writing and everything else that I do. You can join my newsletter for a free novella and more news by clicking this link.
9,115 total views, 1 views today