Myra
Officially, Finn Douglas died on active duty. The truth is more complicated.
When a Federation Navy patrol is ambushed, on the edge of explored space, Finn is the only survivor. Instead of death, he's given the chance of a new life. All he has to do is keep his mouth shut.
Fitted with a second-hand identity chip, Finn Douglas becomes Dave Travise.
His new boss is Rixon, a trader with flexible morals, living on both sides of the law. Dave soon finds that his new life isn't easy. Rixon has plenty of rivals, all looking for a chance to settle old scores.
As his life lurches from one crisis to another, Dave only has his wits and his new shipmates to keep him safe. If they can be trusted.
If that wasn't enough, there's Myra, the engineer on his new home. She could be available, except that she's the real Dave Travise's old flame.
Whatever name he uses, Dave's going to need all the luck in the galaxy to get out of this in one piece.

A review
I really enjoyed this book, which I found a great action-packed adventure. The hero was very likeable and reminded me a bit of Han Solo. Indeed, I think this book would appeal very much to fans of Star Wars; certainly, I have suggested that my son read it on that basis. Unlike another reviewer, I found the descriptions concerning the spaceships very interesting; they did not detract from the story at all, but helped me to picture the spaceships clearly in my mind. I also found the descriptions of the planets fascinating; it is obvious that the author has really thought out his sci-fi world. In summing up, I would say that the story was good and kept my attention, and that the book was also easy to read. Once I started it, I found I could not put it down until I had finished reading it and I will definitely be reading the sequel 'Freefall' to see what happens next in the saga."
Freefall
Can you ever forget, when everything makes you remember?
Dave Travise is a man with a past. And the way things are going; he might not have much of a future.
All he really wants to do is forget, but he's reminded about what he has lost at every turn. His life is in a rut, until the day the person he was expecting to see isn't there, because she's dead.
He finds out that she had a secret. He's warned to keep his nose out.
Does he listen? Or could this be the adventure he's been looking for?
As he gets more involved, his world turns upside down. Events take control of his life, and before he knows how he's at the centre of a Galaxy-wide conspiracy.

Dave is pursued by those in power, desperate to keep what he knows a secret.

The biggest secret of all time.
A review
"A galactic adventure you will want to read again and again!
After reading 'Myra' and loving it – I took 'Freefall' as my holiday read and boy was I glad I did. Written in first person narrative I explored the galaxy, saw new planets, escaped peril and felt every emotion of Captain Dave Travise. Freefall is so immersive and richly described I immediately entered the action and felt as if I was living within the story.
Haunted by the past Dave Travise finds himself caught up in a few sticky situations with some questionable acquaintances as he joins the quest for truth. Every galactic aspect is plausible and all the characters are so well drawn I couldn't help but care about them and their plight. I feel Myra and Freefall really lends itself to be a movie or TV series – a bit like a galactic Indiana Jones."
Promise Me
Break one promise to keep another, can there be a way to please everyone?
Dave Travise has promises to keep, a galaxy to search and no time to lose. The trouble is, most of the promises that he's made contradict each other.
Why is there always more than one problem to solve at the same time? The authorities are on his trail and his girlfriend's family are missing. If that wasn't enough, he's expected to mete out revenge on a man he hasn't seen for fifteen years.
Pulled in different directions by the demands placed on him, friends become enemies and new allies appear. Once Dave realises that the only way to appease everyone is by doing what feels right, he may be surprised at what his efforts reveal.
In the end, there's more than one way to keep a promise.
"a rollicking adventure ride filled with intrigue, murder, and quite a bit of mystery."
The Boxset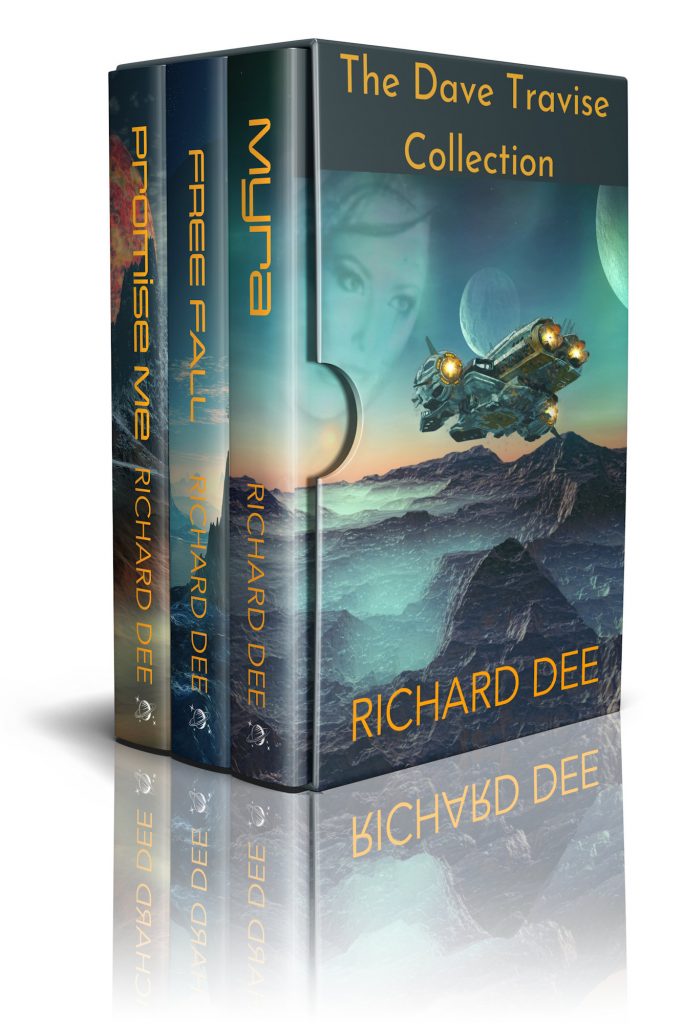 He's survived the massacre of his shipmates. Now he's been trapped into working for the bad guys. Things are about to get complicated for Dave Travise.
Whatever else he might be, Dave Travise is a survivor.
A navy man through and through, Finn Douglas has to adjust fast when his world turns upside down. Changing his name and becoming Dave Travise, galactic trader, is just the beginning.
Suddenly, he's no longer one of the good guys, Instead, he's working on a ship for hire, transporting whatever, wherever, with no questions asked.
There is a bright side, he's met Myra and she promises to change his life for the better.
Keeping one step ahead of trouble is never easy, that's before the intergalactic conspiracy that he gets involved with, and the bits of his past that come back to haunt him.
Can Dave ever find peace, or will he always be who he once was?
"totally believable characters in out of this world adventures."
"Utterly fantastic story! It had the rare, magical ability to suck me into the story itself! "