Survive (the tale of Ballantyne Alysom).
Ballantyne Alysom is the Galaxy's most famous explorer.
Davis Jansen is the cameraman he takes to record his latest mission. 
Alysom is giving nothing away, except that it's something that's never been seen before. 
When things go wrong, they are marooned on a savage and uncharted planet. The survivors need a leader they can rely on. 

Jansen watches and records it all as Alysom's true character is revealed. He's not the genial and fearless explorer that everyone sees. 

The Far Explorer is a ship riddled with infighting and jealousy, Alysom is controlling and arrogant, nothing like the man that his reputation suggests.

Jansen's efforts to expose the truth carry just as much risk as surviving on the planet did. 

Maybe more

Find out if enough lies can ever bury the truth in Survive, the tale of Ballantyne Alysom.
"I recommend this book, it's the kind you can't put down till the end and then you're disappointed when the end happens."
Beta readers comments:-
What a fantastic book!!! I love how while every book you write is technically the same genre, they are all completely different.
Survive came alive from the first page, and really took on a life of its own.
The characters were all well developed and believable, the story was saturated with the atmosphere, and the bad guy Bal was someone that everyone has experienced at one point in their life!
A lot of effort has been put into the research for the story, it comes across as real instead of patently fake.
My goodness, that ending though! Perfect setup for a second book, which I sincerely hope there is one!
All in all, another fabulous read.
Life, and Other Dreams.
Who are you when you dream?
Rick isn't sure anymore…
Is he Rick, living in the here and now? Working a boring job, married to Cath.
Or is he Dan, living six-hundred years and half a galaxy away? Exploring an alien planet with Vanessa by his side.
Two worlds, one man. While he's awake in one place, he's asleep in the other.
Simple enough, until people from Dan's world start turning up in Rick's life.
Confusing? But then it gets worse. Dan is accused of a crime he didn't commit. Ricks wife leaves him and both realities are falling apart.
Which life is real? Will either go back to how it was?
If you had a choice, which would you choose?
"a masterpiece of fiction"
"Fast-paced, edge of your seat stuff!"
A review
"The story concerns a man by the name of Rick/Dan, who experiences extremely lucid dreams of a life on a far off planet called Ecias, to the extent he begins to question which of these lives is true reality. Throughout his journey for the truth, both lives begin to fall apart and he has to deal with repercussions on both sides.
We essentially have 2 different intertwining stories that are both expertly written and meld into a fluid and near perfect dual story. Both have parallels which become more intense as Dan gets deeper into trouble. The story on Ecias could have easily been written as a separate book, as could the tale of Rick, but together they create a weird sublime beauty and one that questions identity and the human condition. The world which Rick lives in is so relatable and the small things such as the noise of an MRI scanner are spot on. While Ecias isn't as relatable in terms of it being a fantasy place, it relatable in the sense of wonder and freedom it provides it's inhabitants. They also have a logical and plausible reason for being on the planet.
Everything is so well thought out and every character is fleshed out to such great detail. I'd say there isn't a badly written character anywhere near the book. Everyone feels like a real person and they act as such. The pacing throughout is impeccable and I found myself gripped. constantly wanting to know what would happen next and how everything fits together. The mind puzzle element of the book is so deep and enticing, it's hard not to get caught up in it.
It's a book you think about long after it's finished and one that truly belongs in the upper echelon of sci-fi, surpassing much of what has come before. It creates its own identity which is an amazing thing. It's rare for a book to feel as fresh and new as this. I wondered part way through if it would be similar to 'We Can Remember It For You Wholesale' by Philip K Dick (which was later turned into the film Total Recall) but no. It went its own path and one that I'd say works better than that of Dick's story. I like the fact that no proper comparison can be drawn, as nowadays there seem to be so many similar books with the same themes and plot devices. It is really nice to have an author write what they want and not just pander to what performs the best in the charts.
If I had one fault with the book, it would be that there's a sequel. So, in theory, it's not a problem with this story, but it affects the overall ending. What's there is perfect. It ends in the most sublimely, strangely beautiful way which makes you truly think. By knowing there is a follow-up, some of the perfection is sadly lost. That isn't to say the sequel won't be great, it just feels unnecessary considering the perfection that is the ending of this book.
Needless to say, I would consider this book a must read and one that I would happily read again. I would go as far as to say that I consider 'Life and Other Dreams' a masterpiece of fiction and one I am so glad to have experienced."
The Hitman and the Thief
Assassination can be a messy business, especially if you're having a bad day.
Dan Jones is the ultimate problem solver, the hitman for crime boss Fliss Bauer.
Fliss has a rival, Kalindra Dallin. She runs a particularly unpleasant planet. Dan is told to arrange her demise. It's just another job; until a random event means that it all goes horribly wrong.
To save his skin, Dan is forced to try again, only this time he has to work with a partner. He doesn't want to but it's the only chance he's going to get; if he wants to put things right.
Can the hitman and the thief get the job done, more importantly, can they keep each other alive?
A review
"Richard's latest book, The Hitman and the Thief, takes the reader on a twisting journey through different worlds. The action moves swiftly, with unexpected twists and turns. As usual, Richard's excellent technical knowledge conveys a gritty reality with ease. This is a fun read, hard to put down and I sure hope there is a sequel in the making."
The Syk'm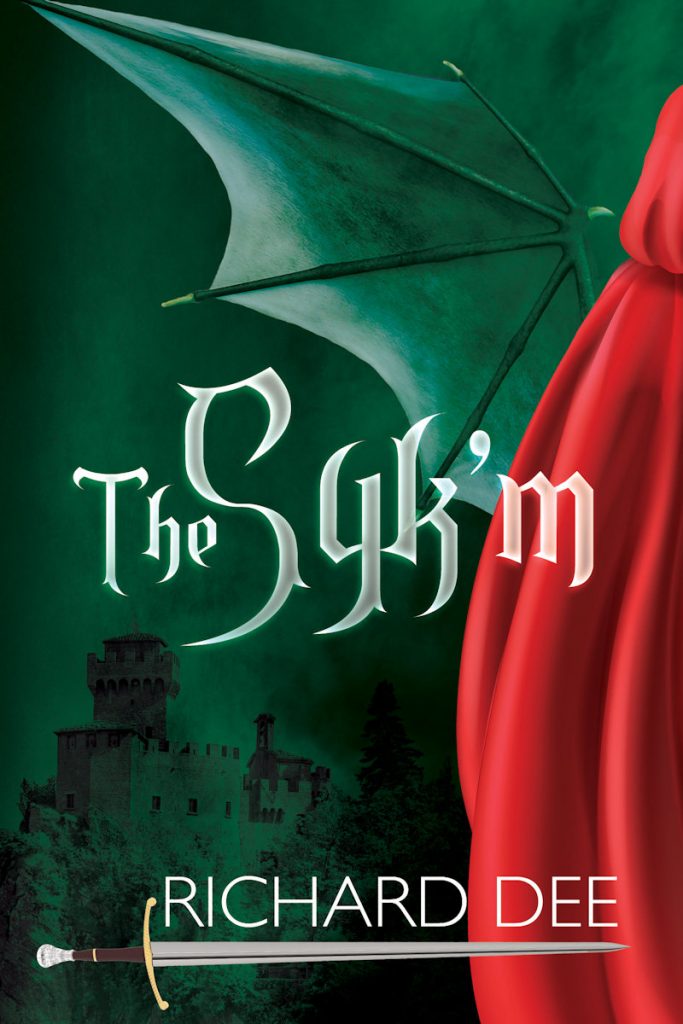 Behave, or the Syk'm will come and take you away.
That was the threat hanging over my childhood, the terrifying punishment that made us all obedient.
As children, we were told that the Syk'm watched over us. Should we misbehave, they could do unimaginable things.
Because we were young and knew no better, the mere mention of their name was enough to control us. We went to bed, minded our manners, stopped our shouting. Although the Syk'm were mythical creatures, never seen, we all believed in their power over us.
Now that I'm older and wiser, I thought that I had outgrown the unseen terrors of my childhood. I thought that I no longer believed in the power of the Syk'm.
Then the day came when I discovered that the Syk'm were real. The day they found me. Their message was clear. Despite everything I had imagined, they needed my help. It was the day I discovered that they were not the monsters we had all believed them to be.
There were others in the universe.
A review
Richard Dee is a fantastic writer, and something of a genre journeyman having written brilliant novels in the cozy crime, steampunk and sci-fi genres, so I entered The Syk'm with high hopes. I am a big fan of fantasy, more specifically the enormous Discworld series by Terry Pratchett. While that series is very much a satire of the real world, it also lovingly and mockingly follows many of the standard patterns or tropes of fantasy – warriors and beasts, dragons, kings and queens, witches and wizards and so on. I was pleasantly surprised to find Dee has taken a somewhat different approach to fantasy. It feels every bit a fantasy novel, but without all of the tropes. The adventure is grand in its scale, the characters developing as they work through setbacks and pitfalls. Richard Dee has crafted a fantastical fantasy filled with fun, adventure and danger all in equal measure. I look forward to seeing where he takes this new direction next.
We Are Saul
When Saul is paralysed in an accident, he thinks it's the end of his life. In fact, it's just the beginning.
While trying to come to terms with his injuries, the mysterious Dr Tendral offers him a way to make a difference. All he has to do is join his project. There are no other details until he agrees, he's either in or out.
What choice does he have?
Agreeing is just the beginning. Saul undergoes drastic surgery, only then is the full depth of the project revealed.
Or is it?
As time goes on and he learns more about Tendral's scheme, Saul's new life becomes increasingly difficult.
In the end, he has to abandon everything as he learns the truth.
All second chances come with a price.
A review.
We Are Saul follows Saul Wilstreet, an odd-jobber who takes on jobs to fund a lifestyle of travelling to disaster-hit locations to help in the relief efforts. While in a far-flung corner of the world, when a relationship became more serious than he was ready for, he fled back to the UK. Unfortunately for him, a tragic accident with an HGV left him paralysed. Laid up in a hospital bed, life as he knew it over, an interesting opportunity comes his way. An opportunity for a second chance at life. Not just existence. A life unhindered. With advanced technology, Saul will be able to control a robotic version of himself with his mind. He can have a full life, with full sensations and experiences. An opportunity too good to be true. Something Saul discovers in time.
We Are Saul makes for a sci-fi novel with a difference. There's modern technology, robots, and something more, but the story offers hope for what could be. But it also offers a cautionary tale of what just might await us in our future. Not everything is as it seems, and very rarely does something life-changing come without a catch. And this is something Richard Dee sets up in this novel really well. I found myself hooked from the first page to the last.
I Remember Everything.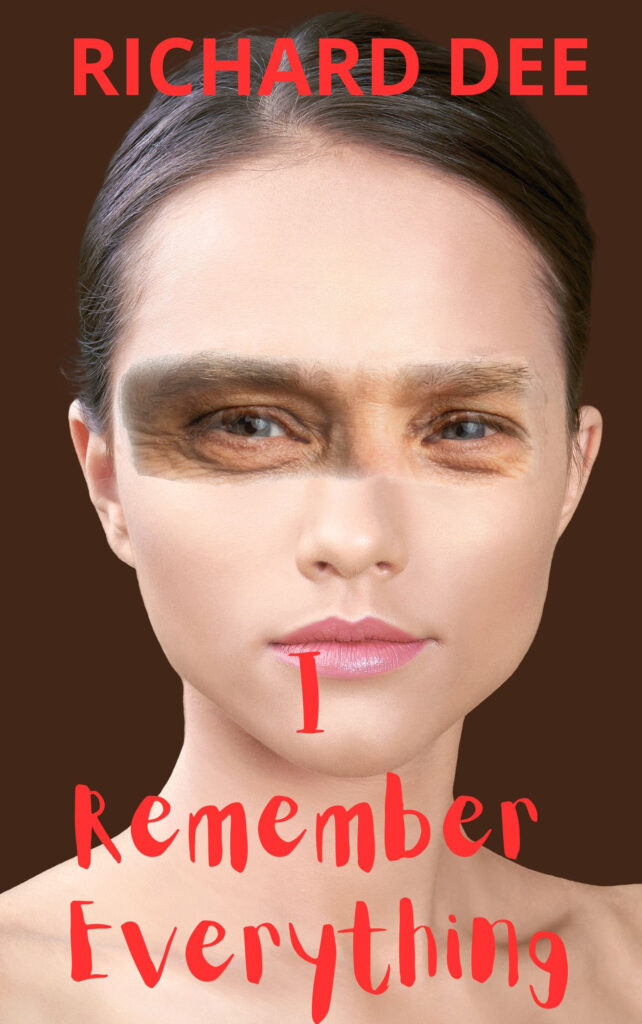 A psychological thriller.
It's the big question. Where do we go, when it's all over?
What happens to our unfinished business?
At 20:08, Detective Ian Gisbon is murdered.
At the same instant as he dies, on the other side of the country, Suzan Halford is born.
Nobody could have guessed that locked in her head is the key to unmasking Ian's killer.
All Suzan has to do is grow up and remember it.
Before she's aware of her knowledge, a chance discovery sets an unstoppable chain of events in motion, and Suzan's life spirals out of control.
What's happening is impossible, it's destroying her family. And driving her crazy.
There's only one person she can turn to, the only one who can help. But they've been gone for years. Finding them will mean that justice can finally be done.
A Review
That little voice in your head telling you to read this book… listen to it!
I loved this new release from Richard Dee. A unique story that keeps you hooked throughout.
At the same time a Detective is murdered a young girl is born. Detective Ian Gibson's consciousness is transferred into Suzan Halford's body and there it remains, watching over the young girl until she is old enough to help him uncover the truth, catch a killer, and bring about justice.
The ending was bittersweet but satisfying and the pace we pitch perfect throughout.
Another success for Richard Dee and I suspect not the last!
5 stars – highly recommend!!!!