Another week has passed in self-isolation here in Devon.
Things are carrying on much the same. My children are still working in hospitals, and we are still worrying about them. This week, instead of filling the post with details of what I've not been doing, or about all the food we've been eating, I'm talking some more about writing. After all, the lockdown hasn't really changed that.
Being an author should be easy.
You just write a story, when it's finished, you write another one.
I wish.
The way my mind works, the process is nothing like the chain of events I've just described. Mine is more like this.
1) Have an idea, dictated by a voice in my head. All goes well for a while, I write about ten or twelve thousand words in a couple of days. Ideas are flowing like a river.
2) Suddenly, this voice disappears. Leaving me with no idea where to go next.
3) A second voice will now appear, giving me an idea based on a comment one the characters made, or a place that featured in the first idea. Or even some completely new idea altogether.
4) I'll write that for a while, then this narrator will disappear too. We then return to point 1.
And so on.
At this moment in time, I WANT to write my next Andorra Pett story. Andorra, or at least the part of my brain that Andorra uses to get her story to me, is refusing to play.
Instead, I've gone back to Dave Travise, who is telling me some of his past adventures, during the time he was living on Nara. If you don't know where that is, you'll have to read Myra to find out.
In the short story that I've just finished writing, he was introduced to a female Bounty Hunter, called Kalyn Deere.
Now Kalyn is in my head, asking me to write her adventures. She hasn't given me much in the way of details but she's so insistent that Dave Travise has shut up and gone off to sulk. I guess that he's hanging out with Andorra and all my other characters. Or whatever it is that they get up too when they're not talking to me.
I suppose they might not even know each other, seeing how they live in different universes and times. Yet somehow they are all connected in my mind. I have to admit that the whole Einstein thing, and the multiverse theory, has me confused.
Meanwhile, Kalyn takes up my time with her reminiscences.
Who knows which one will finally get her to shut up. Or maybe she'll just get bored. Meanwhile, at least I have another possible novel to add to the list. Or at the very least, a short story.
And, in what must be the most bizarre of twists, I was having coffee in the front garden last Tuesday, when a random event inspired me towards yet another idea.
Some water fell from a leaf, onto my wife's arm. She couldn't see where it was coming from. We started laughing and somehow she suggested that perhaps it was leaking through from another dimension. I had this idea, connected to a short story that I wrote ages ago, where a magic-based society sends their boy-ruler into another dimension to save him from a terrible evil.
Perhaps this was the portal opening to summon him back?
I think I may have found my NaNoWriMo project for this year.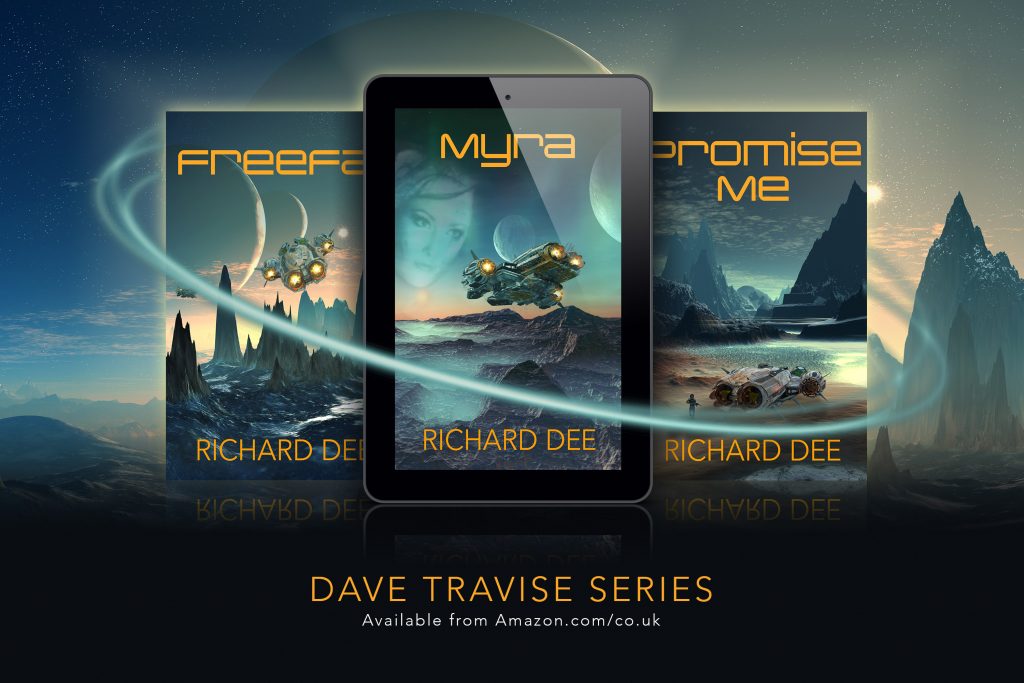 All my publications can be found on my Amazon page, at
Author Updates
Follow Richard Dee and explore their bibliography from Amazon.com's Richard Dee Author Page.
I hope everyone who reads this is coping and that your families are OK, please stay inside and stay safe.
I'd love to get your comments, please leave them below. While you're here, why not take a look around? There are some freebies and lots more content, about me, my writing and everything else that I do. You can join my newsletter for a free novella and more news by clicking this link.
7,560 total views, 1 views today