Most people who know me are aware of my background in the international music industry where I managed – with my lead guitarist husband – musicians, singers, song-writers, record producers as well as placing music – soundtracks – on to Movies and TV series.
My husband was in a band when I met him in the late 1960s and it is our experiences and some events – with a certain amount of poetic licence – which I used when co-writing 'Only One Woman' with award-winning, best-selling author, Christina Jones, who was his band's fan-club secretary back then.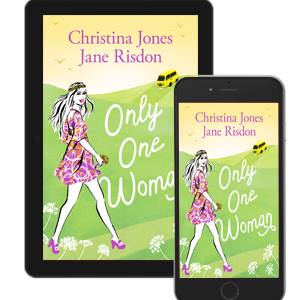 She and I always wanted to write together but she wrote romance and I – eventually, when time permitted – concentrated on crime/thriller writing. So you can see that the chances of us writing together were remote.
However, I was looking through some old touring schedules from the 1960s and fan-mail, photos and diaries, following a house move when I got the idea for 'Only One Woman' – named for the hit single of the same name written by the Bee Gees for The Marbles in 1968. Iconic lead singer, Graham Bonnet, went on to sing with such legends of rock such as Rainbow, Alcatraz, Michael Schenker and Richie Blackmore to name a few bands including his own band, The Graham Bonnet Band.
Graham Bonnet agreed to write the foreword to 'Only One Woman' – worth reading as well, as it charts how the Bee Gees came to write for The Marbles. Our novel was published by Accent Press Ltd May 2018 in paperback (Waterstones etc) and eBook (Amazon etc).
A short extract from his foreword: For me, Jane and Christina's book – "Only One Woman" – reflects very honestly those times and the feel of those times. I can picture myself back in London when reading some of the pages. The 1960s, for me, was probably the most wonderful time in the music business with such bands as The Beatles, The Stones, The Kinks, The Who, and The Bee Gees and more: the list is endless.
This book will take you back to that time; read on readers. Graham Bonnet'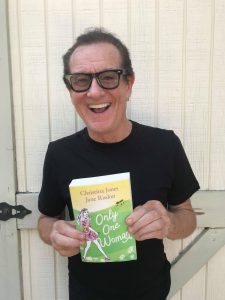 I sent the book to Christina, which follows the lives of rock band, Narnia's Children, and their recording and touring experiences when they relocate from Jersey in the Channel Islands to England, and the love triangle which develops between guitarist Scott, the young Renza and street-wise Stella. She was excited to add her own character Stella and her related characters, into the story.
Guys and gals love the book which is filled with 1960s musical references, fashion, and the venues and vibe of the last years of the grooviest decade of the 20th century. We wanted our readers to feel the vibe. I'm writing a sequel to 'Only One Woman' taking the characters from 1969 through to 1972.
I've written music-themed crimes stories for various projects and online magazines and I've contributed towards 15 mixed-genre anthologies to date, plus I have three novels in a series called, 'Ms Birdsong Investigates,' which I'm re-writing at the moment. Ms Birdsong is not musically-themed. However, it is a series about a former MI5 Officer who is 'voluntarily' retired and finds herself looking into the murder of a young mother which leads her into a huge MI5/MI6 operation underway near the village she's chosen to move to following her retirement. Soon she finds herself embroiled in the activities of Russian people traffickers, Ukrainian gun/drug smugglers – in addition to murder – and sees this as her way back in to the Security Services which she misses and craves to re-join. I hope to have book one 'Ms Birdsong Investigates: Murder in Ampney Parva, with my publisher later this year.
Working in the music business one gets to meet – and gets to find out about – so many famous musicians, record producers, and the movers and shakers of the Hollywood Music, TV, and the Movie industries, and for me it is a fabulous source of material as you can imagine; the characters running the entertainment business are legendary and all that fame, power, and money – well you just know there are stories to be told. Some of these stories have already been written – the true stories – and are well known within the business. My stories are pure fiction but I use the personality and character types I've come across over many years to tell my tales and to give them an authentic air.
I also worked, in my youth, for the Foreign and Commonwealth Office in Whitehall at the height of the Cold War and when the IRA was at its most deadly. Again, I love to use my experiences (fictionalised) in my writing. Espionage and also organised crime find their way into my crime/thriller writing, and this year I am publishing my first collection of short crime stories in paperback and eBook. It's called Undercover: Crime Shorts and it has been endorsed by several respected crime writers including former Detective and now crime/thriller writer, Roger A Price.
Undercover – crime shorts; is a collection of six short works by Jane Risdon who has a talent for grabbing the reader and drawing them in from the very first paragraph. The book provides a must-read for all crime fiction fans with its eclectic mix of tales which will satisfy all lovers of the genre. A highly recommended read. Roger A Price.
I have over 50 short stories which I am considering for part two of 'Undercover: Crime Shorts,' which I plan to publish later this year and in addition to the novels mentioned here I am working on two others; keeping out of mischief!
Short extract from Only One Woman (Accent Press Ltd) Christina Jones and Jane Risdon:
Renza's Diary 16th June 1968:
(16 year old Renza goes to London for the first time)
We took another taxi after dinner, and stopped off at Carnaby Street. I couldn't believe it. I was standing in the trendiest, fab and groovy place on the planet, and it was all so mind-blowingly exciting.
Everywhere I looked I could see Mods and Hippies and really cool looking people with the most far out clothes you could imagine. Girls were in minis with John Lennon caps and long over the knee boots; maxi and midi skirts were everywhere and in every colour and pattern you could think of. It was crowded with people shopping and tourists and people just like me.
'I want to go into Lady Jane, and have a look round!' I was almost squealing with excitement and anticipation. Not that I could afford anything, but just to go inside… …
Gideon went into Lord John whilst waiting for me. I couldn't imagine it was his type of place, but he kindly stayed in there for the twenty minutes I spent in heaven with the grooviest gear ever.
Eventually I felt sorry for Gideon and fetched him out. Then we wandered into Pop.
When we came out I spotted a really famous band, The Mojos, who I recognised from the television, coming out of the really trendy hairdressers called John Stephen.
I could hardly believe that I was standing feet from The Mojos, in the most famous street in the world. There was a huge photo of Long John Baldry in the window and it seemed he had his hair done there too.
Suddenly a crowd of screaming crying girls came charging towards us as they also spotted The Mojos. Gideon grabbed my arm and we ducked into a music shop. The group were surrounded and ended up signing autographs and having their photos taken by the fans.
It was just like being at the Empire Pool Wembley after the pop concert I was allowed to go to. Amazing.
The record shop was full of kids looking through the records, standing in the booths, listening to songs with headphones on, and there was just this loud muddle of music – all sorts of songs bleeding through the booths and into the shop. Some girls were dancing to the music, swaying from side to side, eyes closed.
There were posters all around the shop for different bands and events. There was a fab poster of The Who, advertising their 'Magic Bus Tour', and another one for the West End musical called Hair, with Oliver Tobias on it, which, so I heard at school, had lots of naked people running around on stage. I tried not to imagine the gorgeous actor, Oliver Tobias naked.
I was knocked out by the atmosphere and the variety of people, the music and fashion – it was all so unreal, so far removed from my life at home. I'd seen a famous band and lots of trendy people. Unreal.
We popped into a coffee bar across from the record shop and ordered two espressos; people watching Gideon called it. Imagine if Twiggy or David Bailey went past – I'd just die.
Only One Woman is available in Paperback (Waterstones) and Amazon and most digital platforms around the world. Published by Accent Press Ltd. 53 5* reviews to date from guys and gals alike.
Bio:
Jane Risdon has spent most of her life working in the International Music Business rubbing shoulders with the powerful and famous, especially in Hollywood.
Married to a musician, and later working alongside him managing singers, musicians, songwriters, and record producers, she's also facilitated the placement of music on successful television series and movie soundtracks.
Her experiences have provided her with a unique insight into the business and her writing often has a music related theme.
With long-term friend, award-winning, best-selling author, Christina Jones – one time fan-club secretary for Jane's husband's band – Jane has co-authored Only One Woman which is set in the UK music scene of 1968/69. It is published by Accent Press Ltd.
Jane is working on the sequel to Only One Woman as well as a series of crime novels – Ms Birdsong Investigates – featuring former MI5 Officer Lavinia Birdsong – which she plans to complete in 2019. Her experience of working at the Foreign and Commonwealth Office in her pre-music days has given her plenty of material for her crime/thrillers.
Her collection of short stories 'Undercover: Crime Shorts will be published in eBook and paperback early 2019. She has written for more than 15 anthologies, various online magazines and newsletters.
Links:
Amazon Author Page: https://www.amazon.co.uk/kindle-dbs/entity/author/B00I3GJ2Y8
Universal 'to buy' Links:
Only One Woman: https://books2read.com/u/mlegkP
Undercover: Crime Shorts https://books2read.com/u/4jD0wo
Facebook Page: https://www.facebook.com/JaneRisdon2/
Blog: https://www.facebook.com/jane.risdon
Twitter: https://twitter.com/Jane_Risdon
Instagram: https://www.instagram.com/janerisdonwriter/
Goodreads: https://www.goodreads.com/author/show/5831801.Jane_Risdon
Thanks, Jane, for a great post. I hope you all enjoyed it.
While you're here, why not have a look around the site? There are FREE things and a whole lot more, just follow the links at the top of the page.
If you want to be featured in a future Showcase, where you can write about whatever (within reason) you want, then please let me know. Use the comment box below and I'll get back to you.
You can catch up on previous Showcase posts by clicking HERE
Don't miss the Rewind on Saturday, next Thursdays Showcase post, and my musings every Monday.
Have a great week,
Richard.