Writing any sort of story is a bit like weaving a spider's web.
There are so many interconnected strands of narrative, backstory and setting. Depending on where you start and which direction you move in, a range of possibilities for expansion and diversion opens up.
For a person with a fertile imagination, it's an invitation to see how far you can take matters. For someone like me, who watches stories unfold in their head, it's almost guaranteed that these other avenues will be explored at some point.
When I wrote the first Dave Travise novel, Freefall, I never expected that the backstory that I wove would provide me with sequels, prequels, spin-offs and short stories. The story arc that's developing shows no sign of letting me get away.
To begin with, I wasn't even aware that Freefall would not be the first part of the story.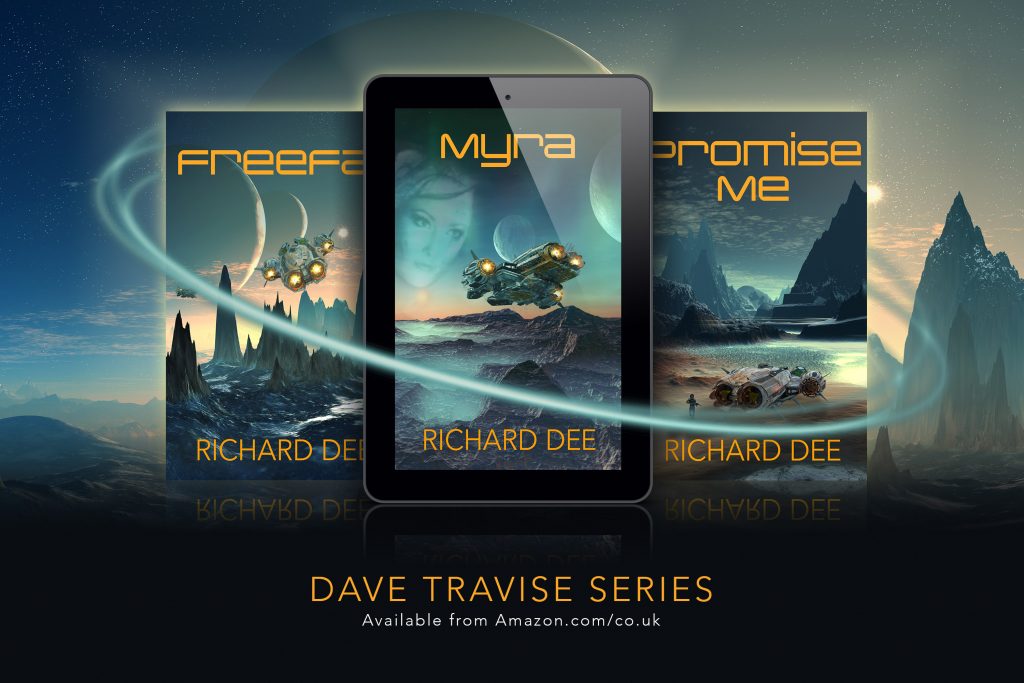 In the world-building, I included a throwaway piece of backstory about a place called the Alysom Caves, a natural feature on a particular planet. It was where the story's finale took place. The setting stuck in my head, as well as Ballantyne Alysom, the man I created as the name behind their fame. As far as Dave and his friends were concerned, Alysom was remembered as a good man but I had my doubts. I decided that the real story needed to be told.
To set the record straight, I wrote a novel about the discovery of the caves and the truth about Alysom, the man who took all the credit. Not only that, I'm halfway through a sequel to it.
In the second part of the Dave Travise series, Myra, I used a location called Passing Thru. It was a marketplace in space, a collection of old ships welded together, in orbit, where you could get just about anything. It was inspired by a comic strip that I remembered reading as a child, in this Boys' World Annual (which I still have, somewhere). The story was called The Sargasso of Space.
Anyhow, using a piece of the backstory in Myra, about a civil war that had engulfed the Federation of Planets, I wrote a time travel short story about some of the residents of Passing Thru, set a long while after Dave had visited. This is now in line to be expanded into a full novel and who knows, maybe a series.
Here's the first concept of the cover art.
Not only that, instead of Myra being an adventure following Freefall, with some flashbacks, it became the first part of the story in its own right.
The third of Dave's adventures, Promise Me, tied up some of the loose ends but left other things unfinished, which gives me the scope for a fourth book at some time. Of course, there is always room for another story (or two) to precede Myra.
There's also a fifteen-year gap in Dave's life between what happens in Myra and Freefall, which I'm currently exploiting in a book of short stories called In the Wilderness. Again, here's the cover concept.
One of these stories, called Bounty Hunter, has been accepted for inclusion in an anthology titled Human Horizons, to be released later this year. Not only that, the bounty hunter herself, a feisty adventurer called Kalyn Deere, is screaming out for her own adventures to be told.
Do you see what I mean? All that came from a single dream.
I've used the Dave Travise series as an example but the same applies to most of what I've done, there is potential in all of my work for an ever-expanding body of new stories.
What do you think?
I'd love to get your comments, please leave them below. While you're here, why not take a look around? There are some freebies and lots more content, about me, my writing and everything else that I do. You can join my newsletter for a free novella and more news by clicking this link.
Author Updates
Follow Richard Dee and explore their bibliography from Amazon.com's Richard Dee Author Page.