Today on the Showcase, I'm featuring an author with a unique take on a mystery in history. Read on
Hello All.
Let me start with an introduction or you'll get to the end (if you get that far) thinking who is this nutter (meant in the nicest possible way of course!). 1000 words about me and my novel…..daunting stuff but I'll give it a go! My name is Nickie, I'm married and the proud owner of a teen, a pre-teen and a myriad of four-legged furries!! I've lived in North Devon all my life, I love the scenery but one place you'll rarely find me is the beach – sand, not my thing!! I'm very creative, I love to draw, paint and sculpt, especially if it's unconventional and not the way it's normally done.
Everyone says I'm really positive and happy – I am, I'm also a bit odd (In my opinion), I do stuff a bit differently from the norm – wacky most would say, unique my mum would say! Though I radiate unicorn happiness I certainly have a dark side, I love bats, skulls and vampires. I don't read one set genre, I'll give anything a go, but I'm drawn towards vampires, templars and witches. Same with TV, from Supernatural to Casualty, I have a very wide range of viewing habits!! I'm not one for travel, got so much beauty on my doorstep (and I get travel sick) but wherever I go I normally make it to a graveyard, I adore wandering around them, thinking of the lives and deaths of those that are interned there, peaceful beautiful places. I'd rather be in the graveyard at midnight than the woods, I worship trees but woods scare me at night! See, a bit odd!!
Well, that's enough about me, let me tell you about my novels, the reason you clicked on the link in the first place!
My debut novel, Jill, was released in October 2017. Almost everyone has heard of Jack the Ripper, the infamous top hat wearing killer that slaughtered at least 5 women. As we know the killer was never caught, no one was ever held responsible for the 1888 autumn of terror that gripped the streets of Whitechapel, 130 years ago. In my bio-fictional novel, I explore the life of a surprising suspect as she weaves her mayhem into a tapestry of blood and lies in a twist on one of Britain's most notorious unsolved murders. What if Jack was a Jill?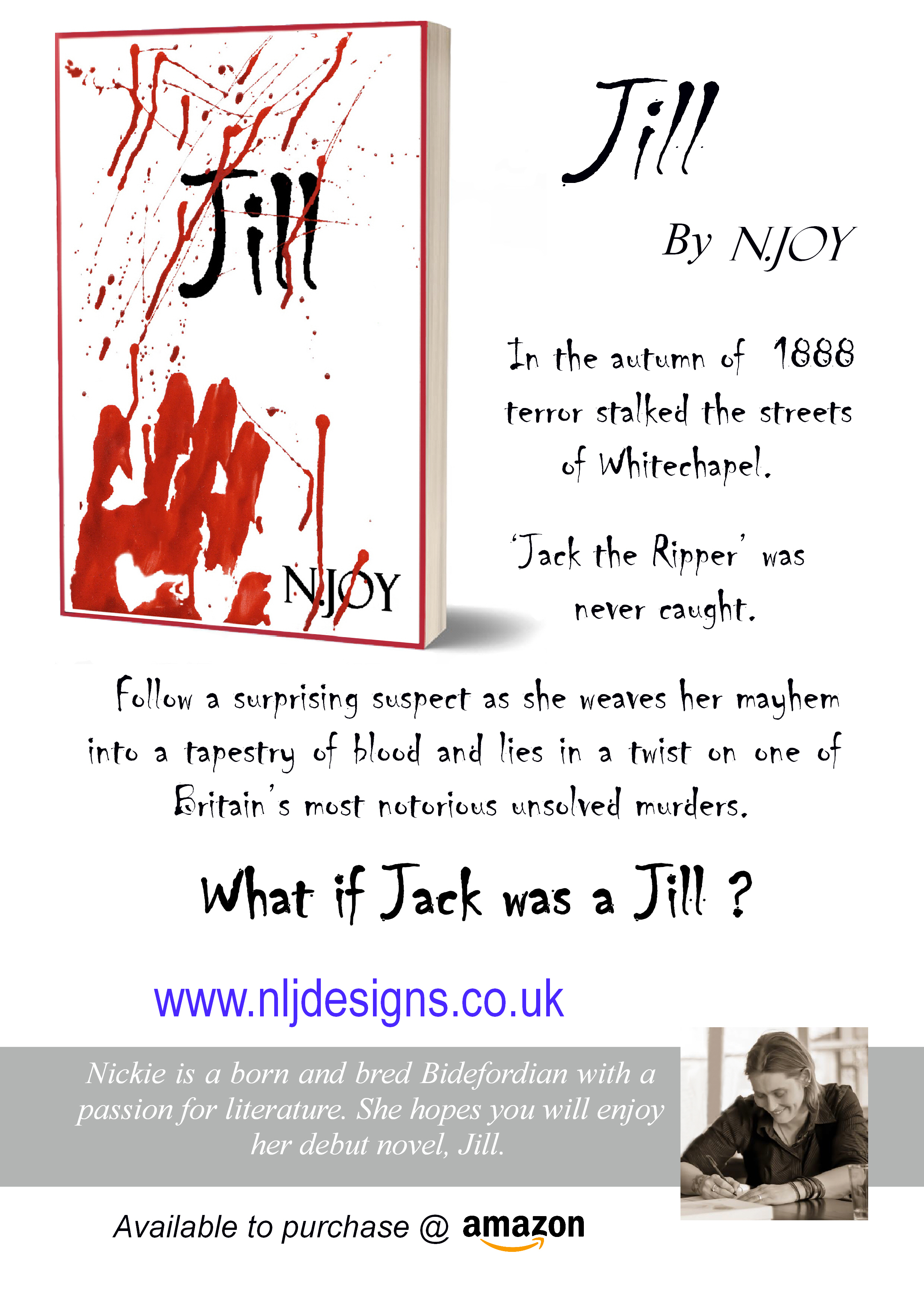 Yep, that's right I made the killer a lady! Before anyone starts screaming 'feminist', no, not the case, I just loved the different approach. I'm not here to change history, just give a different take on what could have happened, after all, nobody knows who did it, and there was female DNA on the postage stamp – though I would imagine that came from the postmistress…… but!
The tale starts with the true-life Mary Wheeler as a young girl, telling her fictional story as she moved from education to work and the perils of living during the Victorian era in the East end of London. There is murder, sex and drinking. I confusingly called the book Jill as in Jack and Jill – a unique selling point?!
I'll admit that I'm a tad morbid, if I wasn't before then the research for Jill would have ensured I was, I wanted to be as authentic as possible without ending up in jail so I watched dissections online (really gross and I suspect it would have been worse with the sound turned on) and I experimented with a scalpel and pig skin to see what it felt like – I'm nothing if not committed…..or was it that I need committing!!
I was asked once, "if your book was made into a film who would play the title role?" I'd have to say that I'd leave that up to the professionals, but it must include Christian Slater, in any role, in all of my adapted novels!! One day…..
Now, book two, is not a sequel, it's not related in any way. It's set in the 21st century and centres on a loving but dysfunctional couple, Jim and Louise Wilson. Have you ever wished that you could get away with murder? Have you spent hours dreaming of ways to dispose of that problematic person in your life? Louise Wilson had. Louise and Jim loved each other, they had produced two grown-up children, had a wonderful life but one day, over 30 years in, a carelessly discarded, and rather smelly sock opened Louise up to an avalanche of involuntary daydreams involving an array of ways in which Louise would become a widow.
From being literally scared to death when Louise jumps out on him to being poisoned, Louise kills Jim in some of the most comical ways you could imagine. One of my favourite scenes (well I was laughing writing it) involves a factory of 'crash test Jim's', spoilers – you'll have to pick up a copy if you want to find out how many ways a wife can potentially kill off her husband!!
I'm not a violent person, honest, I'm really lovely but you'd think I was a psychopath if you read the description of my novels – murder, murder and a bit more murder. Did you know that there's actually quite a lot a science involved in killing someone, more than I had imagined, Google told me!!! On that note, I leave you to try and devise a way for Jim to explode from holding in his own fart!
Check out my links, drop me a message, I'm always happy to forge new links and meet more amazing people, let our awesomeness shine!
Nickie's Links
Nickie  x
~~~~
Thanks, Nickie for a great post. I hope you all enjoyed it.
While you're here, why not have a look around the site? There are FREE things and a whole lot more, just follow the links at the top of the page.
If you want to be featured in a future Showcase, where you can write about whatever (within reason) you want, then please let me know. Use the comment box below and I'll get back to you.
You can catch up on previous Showcase posts by clicking HERE
Don't miss next Thursdays Showcase post, featuring another author who might be new to you. Meanwhile, on Monday, I'll be on a blog tour.
Have a great week,
Richard.