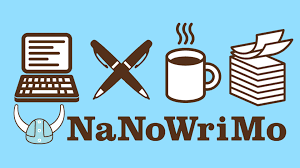 As I mentioned, I'm busy writing this year's NaNoWriMo project, I Remember Everything.
As I won't necessarily have time to write posts, I've put together this series of retrospectives from my past NaNo challenges in advance, so that I can have a clear run at the novel in November.
This week I'm featuring NaNo's projects, from 2014 and 2016. I was busy in 2015 and didn't actually take part, although I did write a book that year.
2014 was my first attempt at the challenge. I probably wouldn't have done it if I hadn't been off sick from work, with time on my hands.
I wrote Ribbonworld, a Sci-fi adventure with themes of corporate greed and corruption. It was published in September 2015 with this cover, which is now sadly unavailable.
There were only 100 paperbacks produced with this cover and about the same number of eBooks sold before I changed it.
This was the second attempt.
This is the latest version. As you can see, the story has now become part of a series.
'Review a hotel for me,' she said. 'It'll be easy,' she said. I haven't even got started and there's a body in the bathroom.
It was only supposed to be a hotel review, all Miles Goram wants to do is finish up and get off Reevis as quickly as he can. It's an airless planet where everyone lives under a giant dome, not the sort of place he wants to be stuck on. The body in his bath has really fouled his plans up. Then he discovers the dead man's secret.
Miles gets drawn deeper into life on Reevis, he finds corruption and mistrust everywhere. Balcom Industrial treat the place like their own kingdom and discourage any questioning incomers. As a journalist and ex-convict, Miles is top of their most unwanted list.
If the death threats and the fact that everyone trying to make him leave wasn't enough, there's the added distraction of a missing heiress thrown in.
Suddenly his life has got very complicated, Miles wants answers. If only he can live long enough to find them.
Here's a review for Ribbonworld.
After a break in 2015, 2016 was the year of Andorra Pett. In response to a bet, I wrote Andorra Pett and the Oort Cloud Café for NaNo and just kept writing when I'd finished it, with the story that became Andorra Pett on Mars being completed just after Christmas. Again, here's the original cover.
And the latest version.
How far is far enough? Andorra needs to get away from her ex, but is Saturn taking it a step too far?
When Andorra's life turns upside down, she decides on a career change. Running a diner on a mining station orbiting Saturn. It seemed like a good idea at the time…
With her best friend Cy in tow, Andorra reckons it's the best thing for them both. A chance to start again where nobody knows them.
Trouble is, there's a secret hidden in the café. Before they have a chance to get settled, there's a queue of dubious characters trying to find it.
While learning to bake and get used to life in space, Andorra has a murderer to catch!
Before they strike again…
"Agatha Raisin meets Miss Marple, in Space!"
"a tale that has everything – humour, suspense, a strong but struggling heroine, a fantastic sci-fi setting, and a truly universal story."
A review,
Both books are now part of ongoing series. I've just finished the first draft of book six of Andorra Pett's adventures and the fourth Balcom novel is in production.
I hope you enjoy this trip down memory lane. If you've read one of the books mentioned, please let me know what you thought of it.
Next week, I'll be looking back at 2017 and 2018.
Why not comment below and give me your thoughts?
I'd love to get your comments, please leave them below. While you're here, why not take a look around? There are some freebies and lots more content, about me, my writing and everything else that I do. You can join my newsletter for a free novella and more news by clicking this link.
Author Updates
Follow Richard Dee and explore their bibliography from Amazon.com's Richard Dee Author Page.