I currently have three series available in Boxset format, for the month of January, all three are just 99p each.
You can get NINE of my novels for the price of a cup of coffee. Click the picture to go to the Amazon page for each set.
To start, we have Andorra Pett, with her first three crime mysteries
Meet Andorra Pett. She's running away from trouble, but it keeps finding her. The first three adventures of the solar systems most unlikely detective are here in one volume
"Agatha Raisin in space – slick crime thriller meets sci-fi fun."
When Andorra decides to get away from her car-crash of a love life, she ends up on a space mine orbiting Saturn, armed only with the determination to do something different. Solving crime was never on the agenda, just a bit of forgetting about the past and making a new life.
Trouble is; bodies and murderers seem to be around every turn. Not to mention organised crime, stolen goods and all manner of dubious characters. Andorra soon gets dragged in over her head. At least she's kept her sense of humour
With her pal Cy, she gets to grips with running a café and discovers its secrets.
Then her ex turns up with a tale of woe, forcing her to go to Mars.
Finally, she discovers that family is the only thing that really matters, when her sister back on Earth needs her help.
Then there are the Dave Travise adventures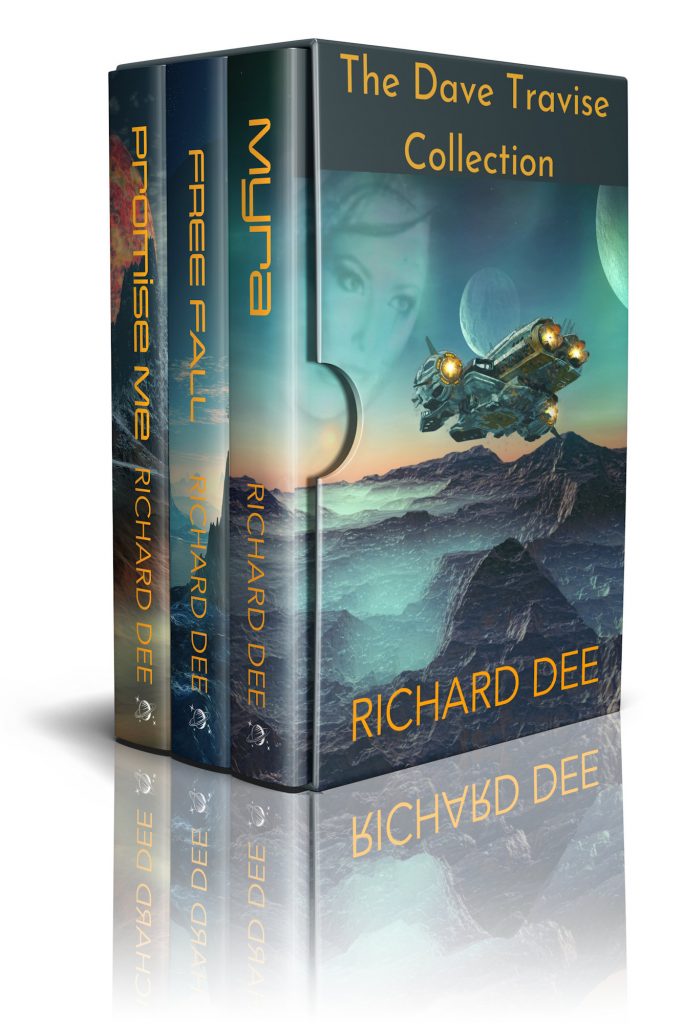 He's survived the massacre of his shipmates. Now he's been trapped into working for the bad guys. Things are about to get complicated for Dave Travise.
Whatever else he might be, Dave Travise is a survivor.
A navy man through and through, Finn Douglas has to adjust fast when his world turns upside down. Changing his name and becoming Dave Travise, galactic trader, is just the beginning.
Suddenly, he's no longer one of the good guys, Instead, he's working on a ship for hire, transporting whatever, wherever, with no questions asked.
There is a bright side, he's met Myra and she promises to change his life for the better.
Keeping one step ahead of trouble is never easy, that's before the intergalactic conspiracy that he gets involved with, and the bits of his past that come back to haunt him.
Can Dave ever find peace, or will he always be who he once was?
"totally believable characters in out of this world adventures."
"Utterly fantastic story! It had the rare, magical ability to suck me into the story itself! "
Finally, The Balcom Dynasty, a story of power and corruption, spread across the Galaxy
Everyone's looking for Layla Balcom
The most recognisable woman on Centra has vanished. Is she tired of being famous or is there something more sinister going on?
Read Layla's story in these three great novels, available together for the first time.

Journalist Miles Goram is a man with a mission. All he has to do is find Layla Balcom, heiress to the biggest company in the inhabited worlds.
It should be an easy job for a man with all his contacts. What can possibly go wrong?

What starts out as a simple hunt for a missing person turns into so much more.
As his search progresses, Miles discovers that Balcom is a company with major problems.

Balcom builds the things that keep everyone connected, if they're in trouble, everyone is in trouble.
The company is owned by Igor Balcom; his power is fading.
Layla was the future, with her missing the vultures are circling around Balcom.
Suddenly Miles finds himself in danger, the hunter is becoming the hunted.
To make things worse; his enemies have all the power.
All my publications can be found on my Amazon page,
Author Updates
Follow Richard Dee and explore their bibliography from Amazon.com's Richard Dee Author Page.
I'd love to get your comments, please leave them below. While you're here, why not take a look around? There are some freebies and lots more content, about me, my writing and everything else that I do. You can join my newsletter for a free novella and more news by clicking this link.
7,685 total views, 1 views today