I've been suffering from a certain paralysis when it comes to writing this year.
I'd hesitate to call it writer's block, as I've not actually stopped writing but I've certainly been having trouble getting any specific project done. I've been swapping about from one to the other of my works in progress (there are currently 8 or 9). I've done a few thousand words on one, then left it for another. I've not been able to settle to finishing any one of them.
I think I've found the reason, it's all to do with enthusiasm, not just mine but also my readers. It has made me wonder if the effort and angst I put into writing sequels is really worth the bother?
It's not as if there is a huge clamour for them, there are no emails demanding that I tell the next part of the story, or explain how things went after the end of the last one. Despite my leaving the possibilities open.
In fact, of all my series (there are four, in case you hadn't noticed), there is only one that seems to generate enough interest to warrant my further attention. I'm talking about my Andorra Pett adventures, in case you wondered. I'm quite happy to write more of her exploits as they consistently sell. Not only that, there will be a spin-off from Andorra Pett's series, coming soon. Watch this space for details.
Andorra Pett flows, yet with the others, the series featuring Dave Travise, The Balcom Dynasty or Horis Strongman's Steampunk adventures, I sit in front of an empty page, willing the story to continue. The same is true to the sequels to Life and Other Dreams, Survive, The Hitman and The Sensaurum. I can see where the stories will go but have no motivation to put it on paper.
If people can't be bothered to read book one and comment about it, what's the point in torturing myself over completing book two?
Wouldn't it be better if I concentrated on the new projects that I have, because there are as many of them as I can cope with?
And wait until enough people actually ask me for a sequel before agonising over writing it.
All of which means I've made a decision. I will carry on with new work, first will be My Sister Alex, followed by a new idea I've had for a time travel caper, which at the moment is called The Crime of the (Last) Century.
As a sort of weird coda, just after I wrote this, I had a review for one of my Steampunk adventures, The Sensaurum and the Lexis. This is one of the novels that I have been struggling to write the sequel for.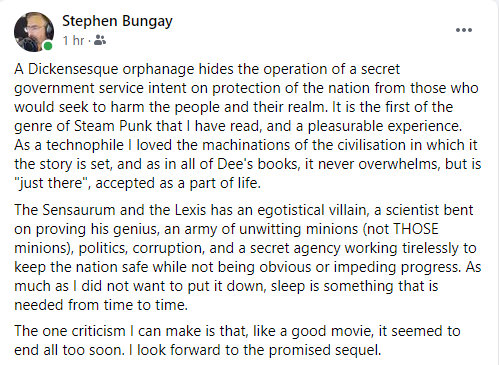 As you can see, someone has just done what I've been complaining that they don't. Getting this must have given me a bit of a push towards writing it as I added several hundred words to it yesterday.
Doesn't life work in strange ways?
All my publications can be found on my Amazon page,
I'd love to get your comments, please leave them below. While you're here, why not take a look around? There are some freebies and lots more content, about me, my writing and everything else that I do. You can join my newsletter for a free novella and more news by clicking this link.
14,063 total views, 2 views today