Please welcome this week's guest. Gilbert describes himself as a Historian and Author (Historical Fiction, Fantasy, Urban Fantasy, SF and Paranormal Adventures).
How I Learned to Stop Doubting and Love Self Publishing
Books have long been one of the centers of my life. It started with my mother reading Dr. Seuss and quickly moved on to the Hardy Boys, The Land of Oz, and Alfred Hitchcock and the Three Investigators. These were books that ignited my imagination and made me crave more. By sixth grade I had discovered J.R.R. Tolkein, Edgar Rice Burroughs, and Neil Hancock. The bookstore was a six-mile bike ride and by eighth grade my best friend and I were making the trip every week where I spent my paper route money on new novels and new adventures. In high school I joined the Science Fiction Book Club and my reading horizons broadened even further—Roger Zelazny, Robert A. Heinlein, C.J. Cherryh, David Eddings, and Terry Brooks to name a few.
In high school I also started getting serious about my own plots and my own books and tried to develop interactive stories through role playing games. These weren't my first ventures into fiction—those stretched back to my imaginary friend when I was still in preschool—but it's when I first started thinking about becoming a novelist. In college I completed my first full-length novel and I started studying history to enrich my fantasy writing, eventually going to graduate school and earning a PhD. During these years I wrote a lot of stories and started to collect rejection notices, but it was only after I completed my doctorate that my fiction really started to take off.
My first sale, Pandora's Luck, was to Alfred Hitchcock's Mystery Magazine and focused on a bare-knuckle boxer and a lady gambler traveling together in the Wild West. It was an action-packed crime story and was followed by fifteen others, mostly in the same series.
While the AHMM mysteries began to sell I continued to explore other markets. I sold a superhero story to Cyber Age Adventures, but it went out of business before my tale could be published. That was a common problem with online ebook companies, many of which published my growing library of stories but couldn't stay in business in the long run. So my urban fantasies—historical and modern—made their debut but didn't stay around long enough to let me build a following. These collapses were terribly disappointing but it eventually became apparent to me that the publishing world was moving in the direction of the independent author and if I wanted to reach readers I had to learn a new business model.
Now I'm pursuing my dreams self-publishing my work on Amazon and through the Smashwords distribution network. I'm writing fantasy novels like my Legionnaire series which has really taken off. It's a fantasy series built on an analogue of the Roman Empire (called Aquila) in a world in which magic and the supernatural are very real. The first short novel, The Fire Islands, introduces Lesser Tribune Marcus Venandus and his Black Vigil Severus Lupus as they struggle to maintain the discipline of their unit in extremely adverse conditions.
Maps are very important to fantasy literature, and I was very fortunate to discover Chris Adams—an amazingly talented painter who took my poor pen and paper scratches and turned them into works of remarkable beauty as you can see first in this map of the Jeweled Hills in the Legionnaire series:
And then in his even more incredible map of my other fantasy series, Winterhaven: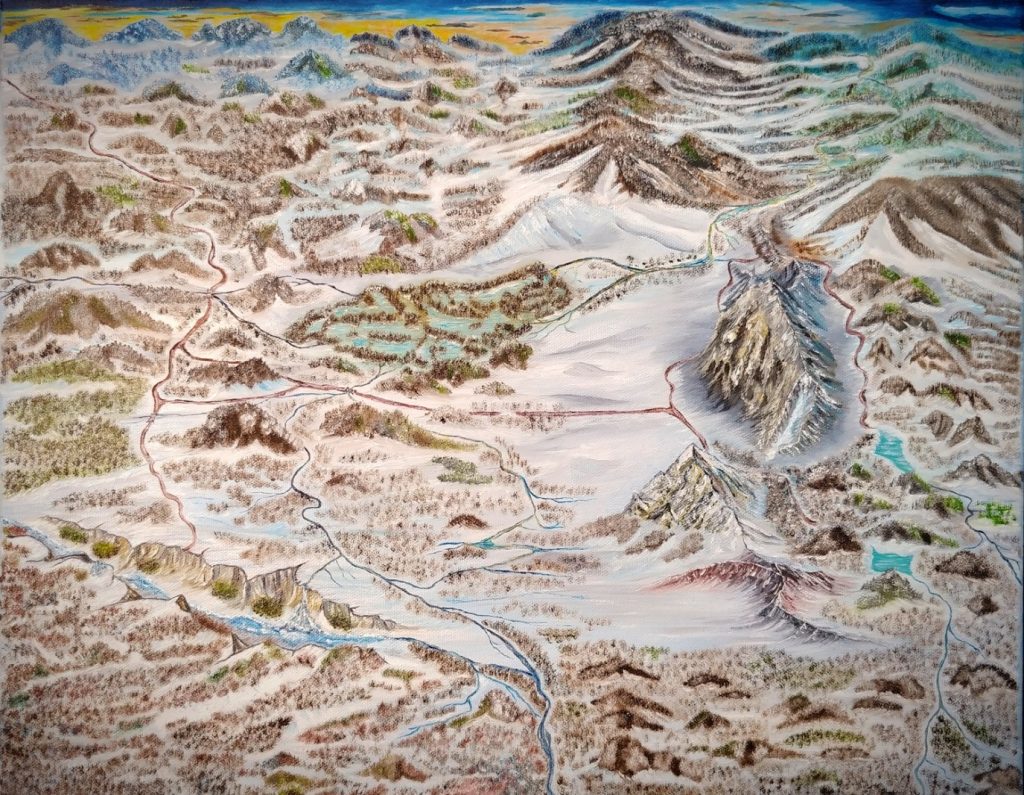 And now I'm very excited to announce that the first three books of my Legionnaire series are available in audio format at Audible thanks to the amazing vocal talents of Will Hahn.
I hope you'll stop by my website at: https://www.gilbertstack.com/
And Chris' website at: https://www.chrisladamsbizarretales.com/
And Will's website at: https://www.williamlhahn.com/posts/category/lands-of-hope/
To learn more about my work. I'll leave you with the blurbs and covers for the first books in both series and a sincere thank you to Richard for hosting me.
Lesser Tribune Marcus Venandus, Legion officer exemplar, was exiled to the disease-ridden hell hole known as the Fire Islands as punishment for the failed political machinations of his father. While the days of the powerful witchdoctor kings throwing skeletal armies against the shields of the legion have faded into history, all is not right at the edge of the world. Unrest is boiling once again as long dead darkness seeps back into the islands. With the legion more concerned with its personal rivalries than with its duty, it will fall to Marcus and his small, highly disciplined, command to put the horrors of the past back in their graves and literally save Aquila from a fate worse than death.
In the far off Duchy of Winterhaven at the edge of human civilization, a young knight investigates a most unusual murder while the Great Lords of the land scheme to expand their borders and take control of the duchy. A decade of relative peace is about to collapse and only young Dhrugal of Edgefield and his brothers and sister stand between Winterhaven and dark-spun chaos.
My thanks to this weeks guest for a great post. I hope you all enjoyed it.
While you're here, why not have a look around the site? There are FREE things and a whole lot more, just follow the links at the top of the page.
You might also like to join my team. I'll send you a bi-monthly newsletter, filled with news, updates and extra content, as well as more about me and my worlds. You'll also get a free short story and offers on my novels. Subscribe by clicking HERE
If you want to be featured in a future Showcase, where you can write about whatever (within reason) you want, then please let me know. Use the comment box below and I'll get back to you.
You can catch up on previous Showcase posts by clicking HERE
Don't miss the Saturday Rewind, next Thursdays Showcase post, and my musings every Monday.
Have a good week,
Richard.