What I Write and Where it Came From
Guaranteed, when someone finds out you're a writer, the first question they ask is; 'so, what do you write?'. For people who write in one, definable genre, this must be a simple question to answer. You write Romance, or Historical Fiction, or horror. For someone like me, who writes across the genres and perhaps even outside of them, it's one of the hardest questions.
I write YA. I also write for adults. My published books include a coming-of-age, a family mystery, a dystopian, and one that is probably best classed as contemporary women's fiction? I'm also working on a series which will be six books, and has elements of coming-of-age, psychological thriller and crime thriller to it. So, I always end up saying, 'well, a bit of everything really.'
One boy's mission to find the good in people.
Twelve-year-old Elliot Pie lives a solitary life with his agoraphobic mother.
He is desperate to help her and he also wants to find out what happened to his Uncle Liam, who walked out one night leaving his dog and his car in the back garden.
While his mother sinks further into the darkness, Elliot finds comfort in people-watching.
He is determined to prove to her that good people still exist and when a stranger is kind to him one day, a plan is hatched. A plan to save his mother. A plan that might help him find Uncle Liam.
Elliot's collection of strangers all have stories to tell about human nature, but is he placing his trust in the wrong people? Or is the real danger closer to home?)
I would best describe what I write as character driven. Because for me, it always starts with the character. They show up first and start talking. As they talk inside my head, they start to grow, and their story evolves and gets noisier and noisier. I start making notes and by the time I actually start writing, I've got the whole thing there in my head. And it was the character that gave it to me. The tricky part comes later when I try and fit the story they told me into a category.
So, where does it come from? What influenced my writing when I first started and what influences it now? If I think back to when I first got addicted to writing, I was around 10 years of age and obsessed with animal stories. Watership Down, The Animals of Farthing Wood and that sort of thing. So, I wrote similar things. A few years later I had discovered The Outsiders by SE Hinton and the horror writer Stephen King. I'd say both these events started to influence my writing in a huge way then and continue to do so today. Another big influence when I was younger was The Catcher In The Rye by JD Salinger.
The Outsiders was a gritty story, told in the first person, with a raw and real writing style that totally absorbed me. The characters, to me, were incredibly real. I wanted to know them in real life, and of course, it soon occurred to me that I could create my own. Heavily influenced by SE Hinton's tales of wayward teens I stopped writing about lost animals and started writing grittier, more character driven stuff. In fact, the six-book series I'm working on was first born during this time. I wrote a very early version of The Boy With The Thorn In His Side at aged 12. Also influenced by the shocking horror and memorable characters created by Stephen King, I created my own truly gritty and uncompromising tale.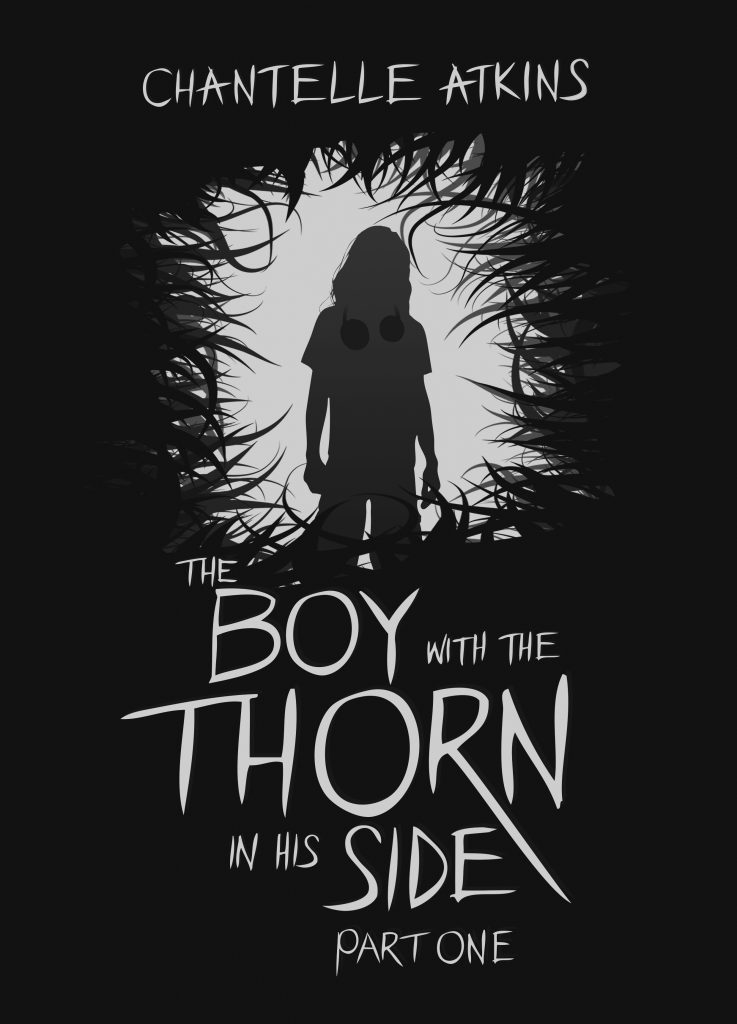 'I don't have my headphones on yet, but the music is always there. I have a constant walking soundtrack to my life, you see. There is a song for everything.'
In the decade of Grunge and Britpop, 13-year-old music fan Danny is on a mission to deter unsuitable men from his beautiful single mother. With best friend Michael on board and first love on the horizon, things are looking good. But the good times are shattered when powerful nightclub owner Lee Howard sweeps Danny's mother off her feet. Howard is a dangerous man who has twisted plans for Danny…Told from both Danny and Howard's points of view, who is Howard and what does he ultimately want? As Danny seeks escape through music, he finds a loyal ally in troublemaker Michael, but are they making an enemy of a man who will be a thorn in their sides for years to come?

A dark and powerful drama about friendship, music and the choice between escaping or fighting back.)
As for now, I continue to be influenced by the characters themselves. I'm a classic introvert in that I love to be alone but find people endlessly fascinating. I love people watching and making up lives to go with people I don't know. I still love Stephen King, SE Hinton and JD Salinger, and I still revisit those books that affected me and my writing so profoundly back then. I never plan to write about anything in particular. I just get these random people jumping into my head and making their voices heard. It does make it difficult when it comes to marketing, selling and explaining what I write, but I wouldn't have it any other way. I think if those voices ever go quiet, I'm in serious trouble.
Bio:
Chantelle Atkins was born and raised in Dorset, England and still resides there now with her husband, four children and multiple pets. She is addicted to reading, writing and music and writes for both the young adult and adult genres. Her fiction is described as gritty, edgy and compelling. Her debut Young Adult novel, The Mess Of Me deals with eating disorders, self-harm, fractured families and first love. Her second novel, The Boy With The Thorn In His Side follows the musical journey of a young boy attempting to escape his brutal home life and has now been developed into a six book series. She is also the author of This Is Nowhere and award-winning dystopian, The Tree Of Rebels, plus a collection of short stories related to her novels called Bird People and Other Stories. Her next book Elliot Pie's Guide To Human Nature was released through Pict Publishing in October 2018. Chantelle has had multiple articles about writing published by Author's Publish magazine and runs her own Community Interest Company, Chasing Driftwood Writing Group.
Links:
Website/blog : https://chantelleatkins.com/
Facebook : https://www.facebook.com/chantelleatkinswriter
Twitter: https://twitter.com/Chanatkins
Pinterest: https://uk.pinterest.com/chantelleatkins/
https://www.instagram.com/chantelleatkinswriter/
Email Newsletter Sign Up: http://eepurl.com/bVVbGD
Instagram: https://www.instagram.com/chantelleatkinswriter/
Amazon Link: https://www.amazon.co.uk/Chantelle-Atkins/e/B00J7ACVCY
My thanks to this weeks guest for a great post. I hope you all enjoyed it.
While you're here, why not have a look around the site? There are FREE things and a whole lot more, just follow the links at the top of the page.
You might also like to join my team. I'll send you a bi-monthly newsletter, filled with news, updates and extra content, as well as more about me and my worlds. You'll also get a free short story and offers on my novels. Subscribe by clicking HERE
If you want to be featured in a future Showcase, where you can write about whatever (within reason) you want, then please let me know. Use the comment box below and I'll get back to you.
You can catch up on previous Showcase posts by clicking HERE
Don't miss the Saturday Rewind, next Thursdays Showcase post, and my musings every Monday.
Have a good week,
Richard.