Today, the Showcase welcomes Alex Marchant, and she's brought a friend. I'll leave you both to it.
This Indie Author thing has been a bit of a rollercoaster for me so far.
I've always wanted to be a writer (that's a bit of a cliché, isn't it?) From always having my nose in a book, to my rivalry as an eight-year-old with C. S. Lewis (my horse-emperor and enchanted fireplace would beat his lion-creator and wardrobe hands down), to all the books I began writing (and rarely finished) during my teens – every one derivative of some writer I'd been reading: Cooper, Garner, Sutcliff, Tolkien, Le Guin, any number of animal or historical fiction authors, even George Lucas (another fantasy land, I guess – just one spread over numerous planets instead of a single world).
So I think I surprised my friends and schoolteachers by opting for archaeology – my other passion – when choosing my university course – and later career. But even then – perhaps strangely – the tool of my trade always seemed to be a pen, rather than the more obvious trowel.
It was when I was working on an excavation in Scotland that I realized it was children I actually wanted to write for – and when the idea for a first children's novel came to me, fully formed – based on that site we were digging.
It was also soon after that I was hit by the long-term injury that ended my time in field archaeology, and pushed me towards a career in publishing instead.
Then, of course, life got in the way (another cliché?) and it took a big birthday and a reassessment of what I really wanted to be when I grew up to usher me back to writing. That Scottish book stayed on the back-burner though, as another idea came calling – my first completed timeslip novel, Time out of Time (which I hope to publish in 2019). It also revolves around an archaeological dig (this time in Surrey in south-east England) and won the 2012 Chapter One Children's Book Award, a major boost to my confidence as a writer.
Back I went to my Scottish novel – but…. in February 2013 came the famous press conference that announced that, beyond reasonable doubt, the grave of King Richard III had been rediscovered in a car park in the Midlands town of Leicester.
Archaeology again. But this time combined with another interest that began in my teens – Richard III and the desire to restore his reputation, so damaged by Shakespeare and other Tudor-era writers.
Thus was born The Order of the White Boar. Two books in the sequence have been published so far – The Order itself and its sequel The King's Man. Together they tell the story of the final three years in the life of King Richard, drawing on the earliest sources. They aim to catch the interest of children with an exciting tale of the real man before they're exposed to the pantomime villain of Shakespeare's play.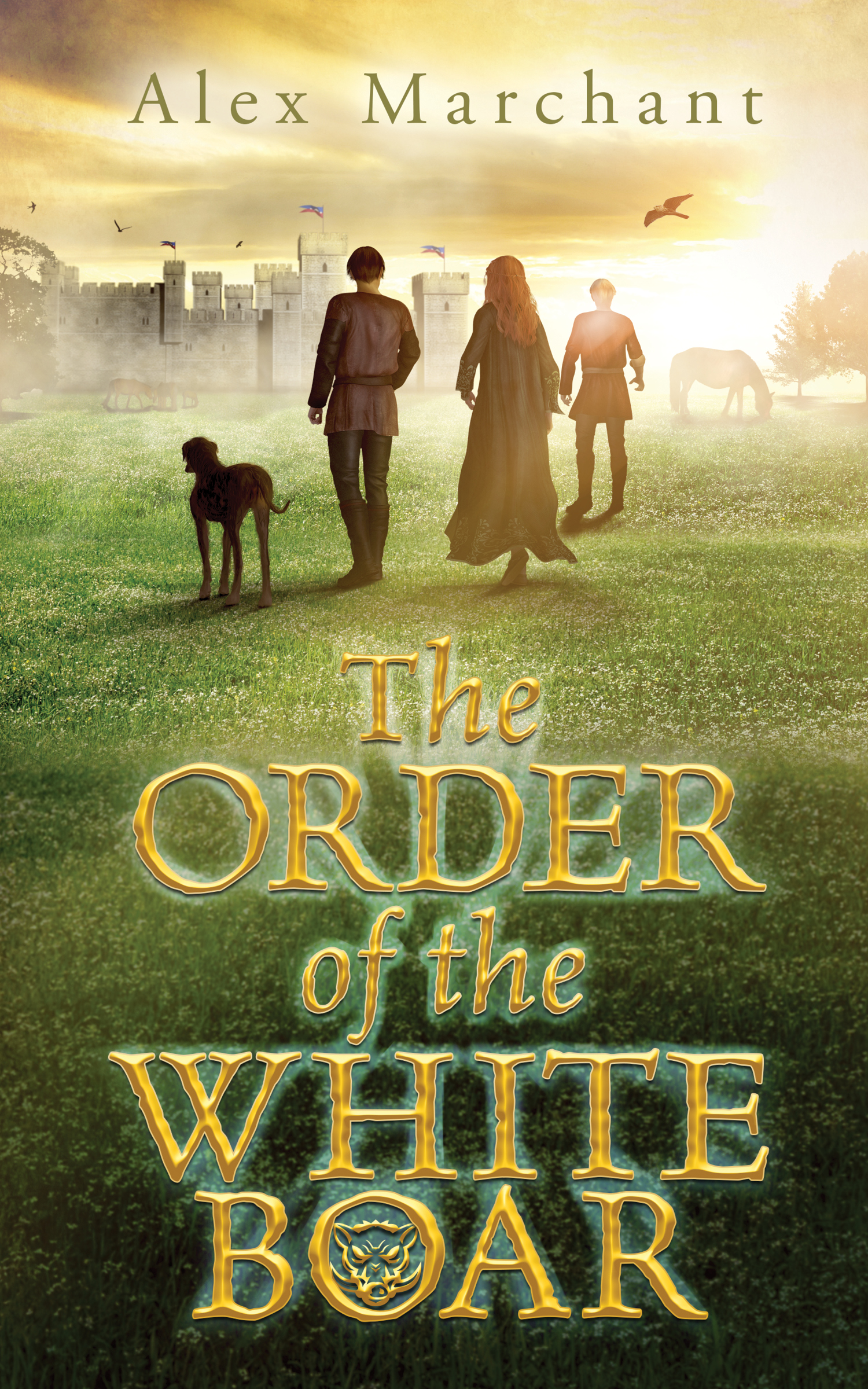 To my surprise, there weren't (and still aren't) any books telling that story aimed at my target age group (10 and above). One or two children's authors have attempted some part of it through ghost stories or timeslip – which prompted me to abandon my previous preference for these genres and take on the challenge of traditional historical fiction. And it was a challenge for me – the daunting idea of immersing myself in the period in order to write convincingly from the point of view of someone from the fifteenth century.
Yet, before long I was almost more at home there than in the present – on the windswept moors above Wensleydale overlooking Richard's home at Middleham Castle where much of the first book is set; in the teeming, filthy streets and alleys of medieval London, York or Leicester; on the great high roads that cut across the country; among the royal and noble ladies and gentlemen at court at Westminster.
I always planned to publish the books traditionally if I could – but in the back of my mind was the idea that I would publish them independently if need be to ensure they did the job they were written for – getting the word out about the real Richard III. And before long, I decided the time spent crafting individual approaches to agents and publishers who might not be aware of the market potential (there are many thousands of Ricardians worldwide) might be better spent learning the indie-publishing ropes.
So here I am, less than a year after taking that decision, with two books published, mostly 5* reviews on Amazon, and a growing programme of author events lined up (as many Richard III-related medieval festivals as I could cram into one summer, plus library events and literary festivals). It's been quite a year!
And now, when I have the time to actually write, it's on to the third book – following my young lead characters – Matthew, the former page, Alys, ward of Queen Elizabeth Woodville, and knight's son Roger – as they navigate the dangerous days and months following the fateful Battle of Bosworth Field at which … but that would be telling; if you don't already know the story of Richard III.
Many of my readers do know it, some don't. My books seem to work for both groups – and that was the aim. Younger readers enjoy seeing life in the period through the eyes of children around their own age, and are gradually introduced to the real man whose story was so distorted in later decades. Older readers, who may be Ricardians like me, have found the books a refreshing take on a well-known story – or, if all they've known is the traditional tale based on Shakespeare's fiction, they've had their eyes opened to a more accurate history.
Reviews so far suggest I was right to take the route I have in the books – a straight retelling of the history, but through the eyes of a young minor character. Matthew is sometimes on the inside of the story, sometimes the outside, and this allows often complicated events to be understood as they would have been at the time (or indeed, not really grasped at all). What has particularly pleased me is hearing from the wide range of readers who've enjoyed the books – people of all ages from eight to eighty-eight (well, eighty-five to be more accurate – one reader who was reminded by Matt of his own childhood, albeit perhaps not as far back as the fifteenth century…).
And that Scottish book? Well, I guess I'll get back to it eventually…
The Order of the White Boar books are available through Amazon at myBook.to/WhiteBoar and mybook.to/TheKingsMan,
through Blurb at http://www.blurb.co.uk/b/8167813-the-order-of-the-white-boar and http://www.blurb.co.uk/b/8770224-the-king-s-man
and through Waterstone's, the Bosworth Battlefield Heritage Centre and the King Richard III Visitor Centre, Leicester, or via me.
My blog can be found at https://alexmarchantblog.wordpress.com
Facebook https://www.facebook.com/AlexMarchantAuthor/
GoodReads https://www.goodreads.com/author/show/17175168.Alex_Marchant
Twitter @AlexMarchant84
And Matthew Wansford can be followed at @WhiteBoarOrder
~~~~
Thanks, Alex for a great post. I hope you all enjoyed it.  
While you're here, why not have a look around the site? There are FREE things and a whole lot more, just follow the links at the top of the page.
If you want to be featured in a future Showcase, where you can write about whatever (within reason) you want, then please let me know. Use the comment box below and I'll get back to you.
You can catch up on previous Showcase posts by clicking HERE
Don't miss next Thursdays Showcase post, and my musings every Monday.
Have a great week,
Richard.