Today's post is part of the blog tour for Visions by Helen J. Christmas, in association with Rachels Random Resources.
Visions
Visions is a psychological thriller set in rural England. The year is 1985. It's been 12 years since Eleanor escaped London, discarding the fragments of her tragic past to discover a new life. She is hiding in a remote country village, a place where she truly believes she is safe.
Her neighbour, James Barton-Wells is desperate to save his historic country house from ruin but this has attracted the attention of a wealthy property developer from London whose seemingly altruistic offer to 'bankroll the restoration' masks a sinister game plan. Suspicious of his motives, Eleanor consults her friend, Charles Bailey. But Charlie has his own story, fearful that Perry Hampton is the man who undoubtedly destroyed his own life.
The characters are drawn together in a battle to save Westbourne House, oblivious to the menace that surrounds them. Threats, stalking and deception lie at the root of the Hamptons evil. Yet it is not until Eleanor comes face to face with them, she recognises a deadly enemy from the past.
Can Eleanor unravel the clues that conceal an evil crime committed in the 70s? This book will draw you into a world of suspense with shocking psychological twists you will never see coming…
Purchase on Amazon –  http://apn.to/prod/B00EPDN41U
Author Bio –
Helen J. Christmas lives on the south coast with her husband. With a love of writing since childhood, she started her decade-spanning thriller series 'Same Face Different Place' in 2011 and published her debut novel, 'Beginnings' in 2012. Visions was the second book of the series and published in 2013; a suspense novel which explores British culture and social history in the 80s as well as the most evil traits people are capable of. The 16th Century cottage in which Helen lives with her husband (restored in 1991) provided endless inspiration for Visions, along with some very special places in Sussex that she loves. Writing is something she fits around her family and social life. Helen is a self-employed web designer and works from home with her husband, Peter. They enjoy the company of a faithful border collie and a beautiful white cat, though Helen confesses to have dreamed up many of her storylines, whilst walking Barney around the nearby beach and park.
Social Media Links –
Website: http://www.samefacedifferentplace.com
Blog: https://samefacedifferentplace.wordpress.com/
Facebook: https://www.facebook.com/author.helenchristmas/
Twitter: https://twitter.com/SFDPBeginnings
Good Reads: https://www.goodreads.com/author/show/5838032.Helen_J_Christmas
Pinterest Book 2: https://www.pinterest.co.uk/helenxmas/same-face-different-place-visions-book-2-by-helen-/
Instagram: https://www.instagram.com/helenchristmas7/
Win a signed copy of Visions (UK Only)
*Terms and Conditions –UK entries only welcome.  Please enter using the Rafflecopter box below.  The winner will be selected at random via Rafflecopter from all valid entries and will be notified by Twitter and/or email. If no response is received within 7 days then I reserve the right to select an alternative winner. Open to all entrants aged 18 or over.  Any personal data given as part of the competition entry is used for this purpose only and will not be shared with third parties, with the exception of the winners' information. This will be passed to the giveaway organiser and used only for fulfilment of the prize, after which time I will delete the data.  I am not responsible for despatch or delivery of the prize
http://www.rafflecopter.com/rafl/display/33c6949474/?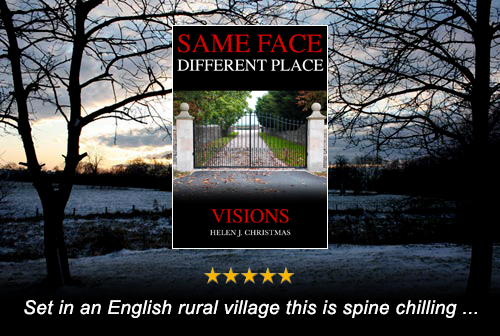 And now, my review.
I read the first book in this series, Beginnings, and absolutely loved it, so when the chance came up to read the second part of the story, I couldn't wait.
Visions continues the story from where Beginnings left off. We have moved forward a decade, we're now in the 1980's.
Our heroine Eleanor, with her son Elijah are rebuilding their lives. Forced to move on after the events of the first book, they are now living in a small village, she's working and they're trying to keep out of trouble. Elenor has made new friends and a new life. But very soon, events start to conspire and bring figures from the past, together with their old ways, back into her life and the lives of everyone around her. Before she can help it, she is drawn back into the old struggle.
Her new friends and old enemies all get involved in a scheme to rejuvenate an old country house and well…, no spoilers here. But it adds a new and totally believable dimension to the story while keeping the original narrative (and everything that involves) going. Once again everyone has an interesting story, a good reason to be on one side or the other. The fun comes from trying to see where they all fit in, the excitement from finding out.
Helen paints a mood that is both sombre and exhilarating. You cannot predict what will happen every time you turn a page. There is suspense, a feeling of menace when certain players appear and over it all, it feels like the times. There are a lot of cultural references and the mood of the book reflects perfectly the things I remember from those years.
As I said, familiar faces reappear and a lot of new characters enter the story arc, all of them feel like they belong and have a part to play. They stir emotion, from the start you are interested in what they do to advance the plot, which, while complicated, is easy to understand. There is enough background included to make this a stand-alone. At the same time, enough is unsaid to make you want to read the first part if you haven't already.
There are moments of shock, surprises and stand out jolts, some quite extreme violence and psychological warfare, yet as well there is love and tenderness. The term emotional rollercoaster is often used, I have to say that in the case of this story, it applies perfectly.
All in all, a worthy sequel and a prelude to part three, which I have put on my T.B.R. list, but first I need to get my breath back.
Thank you to Rachels Random Resources for the chance to read this book. I was offered it in exchange for an honest review.
And my verdict,