Please welcome this week's guest to the Showcase.
Hi, everybody. First of all, I want to say thank you to Richard who's hosting me here today.
My real name is Valeriya, but I prefer to be known under my pen name L. Salt.
I'm a multi-genre author from the United Kingdom, currently publishing exclusively with Crazy Ink Publishing.
My route to publication was long and complicated.
I was born in Belarus and have lived for many years in Ukraine and Russia, then finally settled down in the North of England.
I studied History of World Culture and did my Master's Degree in Art Expertise at the St. Petersburg University of Culture and Arts. My interest in writing dates back to my teenage years.
I started to write at school, at the age of 12-13. I wrote a sci-fi series about time travel and other dimensions. I always liked to tell stories, creating new, fancy worlds.
I haven't written anything for more than ten years, but then, I started to write again, and this time in English. I think my relocation to the U.K. combined with the boredom of living in a small, industrial English city has trigged my interest in creative writing.
Relocation from St. Petersburg, the second-largest city in Russia, wasn't easy to me, so creative writing became my option to escape from reality to a better, fancier worlds.
There were lots of rises and falls on my way to be a published author. God knows, how many times I was ready to quit, but some unknown force kept pushing me to write and submit to agents, magazines, and publishers again and again.
The first tiny success which inspired me to carry on happened in 2016, when one of my short stories The Iced Asylum was shortlisted for the Eyelands' International Short Story contest in Greece. The story was also published in their anthology Stories in Colour. This very first victory played an enormous role in my future as an author. Till then, I've already written my first full-length novel The Ways We Follow (Book 1 of The Ways duology) and was looking for a good home for it. I found it, but a year later, in 2018.
Till that time, I've almost finished Book 2 of the duology Angels of Zion
Both books are set in the near future in St. Petersburg, Russia.
I didn't waste the whole year, I was writing, editing, submitting, getting rejections, and…resubmitting.
As a result of all this hard work, my second short story The Imp's Chronicles was published in Full Metal Horror anthology by a small Australian publisher. It was also re-released as a re-print in an on-line magazine Strange Zine.
You may ask me why I've decided to spend all this time, chasing publishers instead of self-publish? Well…there're a few reasons for that. Fist of all, I wanted to challenge myself (and my writing), persuading editors that my writing was worth investing their time and efforts. As an emerging, inexperience author, I really wanted this recognition from professionals.
Secondly, I really wanted my books being edited, formatted, and marketed after all by professionals. I do believe that traditional/semi-traditional publishing is a good start for first-time authors who haven't created their massive audience of readers yet. Besides, editing, proofreading, covers, formatting…of course, an author can do it himself/herself, if they have all these skills or they can employ a freelance editor, graphic designer, etc. All of that requires an enormous amount of time and cost authors decent money as well, so as I've already mentioned, a traditional route of publishing became a win-win situation for me.
In April 2018, my debut thriller/action novella His Personal Reich was released by Crazy Ink Publishing, and I've been writing exclusively for this publisher ever since.
I wanted to share my experience here because I know how daunting and exhausting life of an aspiring writer can be. I hope my example will become an inspiration to all of them.
Now, I want to share an excerpt of my new and upcoming release, a thriller/suspense novella The Seeds of Stars with the plot set in Scotland, Berlin, and the Adriatic coast of Montenegro.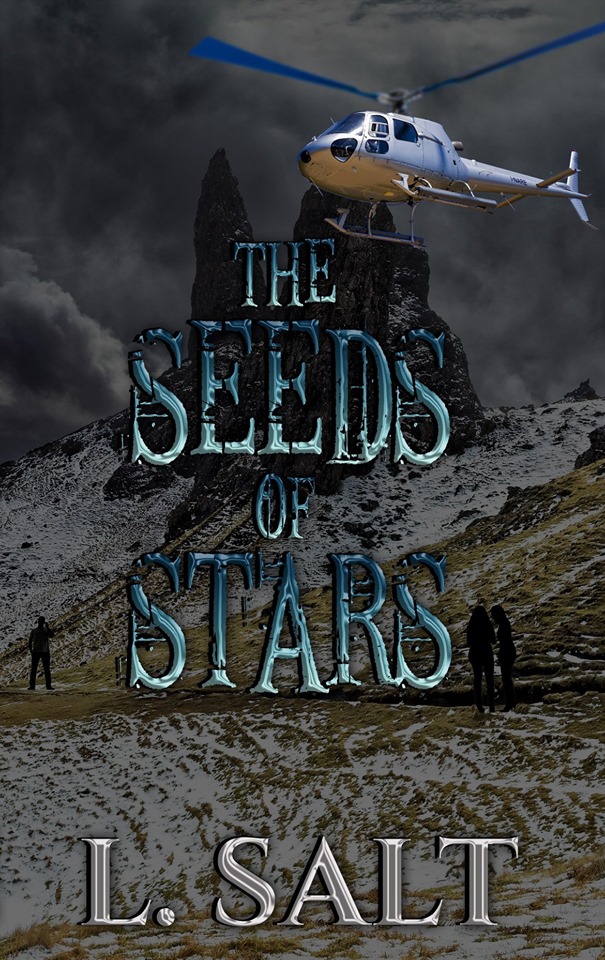 You can find this book together with my other works on Amazon and all major platforms both in ebook and in print.
The Seeds of Stars
Ebook: http://mybook.to/SeedsofStarsCI
Paperback: https://www.amazon.com/dp/1697566561/
UBL: https://books2read.com/u/3npM5K
Goodreads: https://www.goodreads.com/book/show/48360283-the-seeds-of-stars
Blurb

The life doesn't promise to be joyful for a "Chernobyl child" born straight after the nuclear disaster. True…but not for such an adventurer, adrenaline junkie, and popular extreme sports' blogger like Yuliy Kobrin, aka Kobra. Adopted by a British couple, Kobra spends his life in urban exploring and travels.
Skiing in the Scottish Highlands, Kobra meets a young German couple, Edel Baum and Kira Schneider. The new friends invite him to their luxurious house, where Kobra's attention is drawn to Edel's collection of World War II antiques and a mysterious Yugoslavian file which the couple asks to translate for them.
The file reveals classified underwater facilities from the Cold War times, hidden deep in the Kotor Bay of Montenegro. Yuliy can't miss an opportunity for such a discovery.
Six months earlier, a prominent scientist died in his apartment in central Berlin. The authorities believe it was a heart attack, but a police officer, Trina Stahl, thinks this case is far more dangerous and complicated.
All hell breaks loose for Kobra when he comes under attack in the Kotor Bay when he realises his new German friends are not who they say they are, and his life now is of interest for many parties. From Montenegro to Scotland, from Berlin to the Isle of Skye—Kobra is on the hunt for a mysterious alien object, the Seeds of Stars, but also for the truth about his own past.
An Extract
Chapter One
Aviemore, Scotland
The snow, the sun, and the speed…crazy, dangerously crazy speed—that what he enjoyed the most here. His snowboard wagged and jumped over snowdrifts, gliding through the endless slope of Cairngorm Mountain. The other skiers flew by like tiny colourful birds with their arms opened like wings to keep their balance.
A jump over a drop, another one…years of snowboarding, skiing, and many other extreme sports had made his body strong and agile. A minute later, he left all the other skiers far behind, gliding through a small pine wood. A quick, confident smirk ran across his lips, but his triumph was premature, as a slim figure in a bright red-and-black suit had appeared from nowhere, looming behind the pines just a couple of yards in front of him.
He frowned, couldn't believe some newbie had shown him up. He twisted his torso, leaning slightly forward in order to increase his speed. The silhouette continued to lurk behind rows of trees' trunks, and he had almost caught up with it, but the next second it jumped over the hump, leaving him even farther behind.
He clinched his fists instinctively. He wasn't ready to lose.
His rival had suddenly lost balance; the snowboard went out of control, and the figure rolled head over heels to meet the tree.
He had slowed down and finally stopped next to the stranger.
'Are you all right?' He hurried up to the growling snowboarder, pulling his helmet off. 'Please, don't move. It could be a serious injury.'
The figure had pulled their helmet off, revealing a heavy mass of long copper-red hair. 'Ah, I'm fine,' the lady replied, her voice with a slight accent that sounded pleasant, without a hint of anger.
He stretched his hand and helped her to get up.
'You were quick,' he admitted his defeat. 'Where did you learn snowboarding? Definitely not in Scotland.'
'In Germany.' The woman smiled. 'I'm Kira, by the way,' she introduced herself. 'Your face looks familiar. I've seen you somewhere,' she continued. 'Are you…?'
'Yuliy. Yuliy Kobrin.' He nodded. 'But you can call me Kobra.'
'Ah, of course. I've watched a few of your videos about skiing and snowboarding on YouTube. Your nickname suits you perfectly.' She beamed, no anger or annoyance in her voice. 'Fast and sudden like a cobra.'
'Do you want to go back to the station, sit down, and have a drink? Can you walk to the lift?' Despite his defeat, a tiny needle of guilt kept on piercing his conscience. 'Drinks are on me in return to your honest feedback about my channel.' He didn't want to miss a chance to talk to his new fan.
'Honestly, I'm fine,' Kira waved her hand. 'But I'd gladly…'
She didn't have time to finish as a male figure in a bright blue suit had approached them. The man rushed to them, waddling awkwardly on his skis and shouting something in German.
'Edel, I'm totally fine.' Kira turned to the newcomer, when he approached them and pulled his helmet off, observing Yuliy. 'This is my fiancé, Edel,' she continued, introducing the clumsy skier. 'He's just starting to learn skiing.'
'Pleased to meet you, Mr…ehm…' Edel stretched his hand for a handshake. His eyes, grey and cold, kept on staring at Kobra.
A cold chill ran down Yuliy's spine, and he realised even his dark sunglasses couldn't protect him from this challenging gaze.
'Yuliy, aka Kobra.' Kobra shook the man's hand, smiling.
'Remember we've watched his snowboarding tutorial on YouTube recently?' Kira reminded her companion.
'I lost you, I thought you might've fallen down and…' Edel had started in a worried tone again without paying attention to her last remark, but his fiancée calmed him down.
'I did fall down, but it was my own fault. I behaved as if the whole slope belonged only to me, and Kobra has taught me a good lesson.'
Edel frowned, but Kira continued with a wide smile, 'Mr. Kobra has offered to go back to the top and have a drink in the café.'
'I agree,' Edel nodded, probably fed up of skiing.
The trio had left the woods and took a ski lift to the top, where the ski station was swarming with guests this time of the year.
'So, how long are you going to ski here? Where do you stay?' Kobra had started as soon as they chose a table and ordered drinks. 'Aviemore? Kingussie? Somewhere farther?'
'What do you mean how long?' Kira asked.
'Well…you've said you learned skiing in Germany, you speak German, so I thought you're just ones of these German tourists who are coming to the Highlands for skiing, hiking, and Scottish whisky from numerous local distilleries.'
'Ah, that's what confused you?' Edel chuckled.
'We're from Berlin,' Kira continued. 'About a year ago, Edel bought a house here, near Loch Oich. We both always loved Scotland for its scenery and opportunities for outdoor activities, so…when we got a chance, we used it.'
'I still need to travel to Germany for my work ever so often, but we enjoy our life here, exploring, hiking, skiing, swimming in the loch, trying to socialise and make friends,' her fiancée supported her.
'Sounds like fun,' Kobra nodded.
'And you? What about you? You don't sound like a local.' Kira squinted. 'There's not much information about your background online either.'
'I am a tourist here,' Kobra smiled. 'I've spent almost ten years trying to settle down around London and down the south, but in the end, I just came back home to Derbyshire. There're no opportunities for skiing there, so Scotland is the nearest ski resort for such an adrenaline junkie like me.'
'But your name…it doesn't sound English…' Kira stammered, realising her questions became more and more personal, but Kobra wasn't easily offended.
'My English adoptive parents decided to leave me with my given name. I was born in Ukraine, in a tiny village near Kiev, where my mum was evacuated after the Chernobyl Nuclear Power Plant's explosion,' Kobra explained with a deep sigh. 'As a "Chernobyl's child" I was lucky to be adopted and brought to England.' With that said, he pulled off his sunglasses slowly and glancing at them with a challenge, but also hope…hope that his new acquaintances wouldn't be scared of his look.
'Ehm…' Kira stammered for a second, captivated by this pair of deep amber eyes with thin vertical lines instead of pupils.
Edel just swallowed his beer, trying to avoid a direct eye contact.
'And your eyes…I mean I don't want to…' Kira had started unsurely.
Yuliy nodded. 'Ukrainian doctors prophesied me to live in a complete darkness, but thanks to the local surgeons and my parents who fought for me and my eyesight. I wore contact lenses at school and college, not due to medical reasons, just to avoid bullying. It felt uncomfortable, so now…I don't do it anymore.'
'You shouldn't care about other people's opinions,' Kira said, sincerity and warmth in her voice.
Kobra kept silent for a couple of minutes, feeling a bit overwhelmed by his own brave revelation in front of two strangers whom he knew a bit longer than an hour.
'So, any plans for this weekend apart from snowboarding?' Kira had broken the inconvenient pause first.
'Not really. What about you? Will you come here tomorrow? I can show Edel a few tricks which may help him on the slope,' he suggested.
'Oh, thanks.' His new friend sighed heavily. Clearly, the idea of another day full of falls, bruises, and scratches didn't excite him at all. 'We'd rather stay at home. Maybe I'll try to fix this damn boat, and we'll have a trip around the loch.'
'A boat? You have a boat?'
'Ah, it's just a chunk of corroded scrap metal which Edel proudly calls "a boat".' Kira just waved her hand in disapproval. 'He's bought her super cheap from Montenegro. A former coastguard boat from the Cold War times with all these fancy relics and insignia of the Soviet Yugoslavian Army…ah, I thought it was something worthy, when he showed me her on a site of a surplus company, but when she arrived…'
'Oh, I love such things.' Kobra clapped his hands.
'If you're such a military history enthusiast like Edel, you're very welcome to come and help him to fix this piece of crap, but I don't think she worth all these efforts.' Kira shrugged. 'I've told you…' She turned to her fiancé. 'Sell her to a scrap yard to get at least some of your money back.'
'I can come and have a look, if you're inviting,' Kobra nodded.
'I'd be grateful for any help.' Edel smiled. 'Where do you stay? Did you drive here or…?'
'Yes. I'm staying in one of the guest houses here, in Aviemore.'
'Ah, it's less than an hour drive from where we live,' Kira replied. 'We live just some five miles from Invergarry village.' She pulled a tiny block note out of her rucksack and wrote down the address. 'Eleven o'clock tomorrow? Sound okay?'
'I'll be there.' Kobra took a note from her.
Bio.
L. Salt is a multi-genre author from the United Kingdom. She studied History of World Culture and earned her Master's Degree in Art Expertise at the St. Petersburg University of Culture and Arts. Born in Belarus, she lived for many years in Ukraine and Russia and, eventually, settled in the North of England, where she currently lives with her husband. Salt's interest in writing dates back to her teenage years. Apart from creative writing, she has a passion for traveling, arts, history, and foreign languages.
Her debut novella, His Personal Reich was released in April 2018 by Crazy Ink Publishing. It will also be featured in the boxed set Chills and Thrills in May 2019. Her second novella, a thriller/mystery story Legacy of the Iron Eagle, released in February 2019. She is the author of the Off the Ways Series including The Ways We Follow (Book One) and Angels of Zion (Book Two). Her short stories have appeared in numerous anthologies, including the Crazy Ink Publishing anthologies Royal Scoundrels and Beyond Wonderland, as well as magazines, both online, and in print. Another of her suspenseful stories, The Seeds of Stars, will release in December.
Books by L.Salt
His Personal Reich
a thriller/action novella
Amazon: http://mybook.to/HPReich
UBL: https://www.books2read.com/u/3GY0jp
Legacy of the Iron Eagle
A thriller/mystery novella
Amazon: http://mybook.to/LegacyIronEagle
UBL: https://books2read.com/u/meAP0z
The Ways We Follow
(Book One of The Ways Duology )
A romantic suspense/drama
Amazon: http://mybook.to/TheWaysFollowCI
UBL: https://books2read.com/u/bxYlEl


Angels of Zion
(Book Two Of The Ways Duology)
A thriller/suspense
UBL: https://books2read.com/u/mqG5oO
Amazon: http://mybook.to/AngelsZionCI

The Seeds of Stars
A thriller/suspense novella (on pre-order now)
Ebook: http://mybook.to/SeedsofStarsCI
Paperback: https://www.amazon.com/dp/1697566561/
UBL: https://books2read.com/u/3npM5K
Follow L. Salt:
Facebook Page: www.facebook.com/saltandnovels
Facebook Group: www.facebook.com/groups/608692496170838/
Twitter: https://twitter.com/LSalt1
Blog: www.saltandnovels.wordpress.com
Amazon: www.amazon.com/author/saltandnovels
E-mail: saltandnovels@gmail.com
Goodreads: www.goodreads.com/author/show/17915818.L_Salt
Pinterest: www.pinterest.co.uk/saltandnovels
LinkedIn: https://www.linkedin.com/in/l-salt-36bbaa177/
AllAuthor: https://allauthor.com/author/lsalt/
My thanks to this weeks guest for a great post. I hope you all enjoyed it.
While you're here, why not have a look around the site? There are FREE things and a whole lot more, just follow the links at the top of the page.
You might also like to join my team. I'll send you a bi-monthly newsletter, filled with news, updates and extra content, as well as more about me and my worlds. You'll also get a free short story and offers on my novels. Subscribe by clicking HERE
If you want to be featured in a future Showcase, where you can write about whatever (within reason) you want, then please let me know. Use the comment box below and I'll get back to you.
You can catch up on previous Showcase posts by clicking HERE
Don't miss the Saturday Rewind, next Thursdays Showcase post, and my musings every Monday.
Have a good week,
Richard.
8,569 total views, 2 views today